1. Craft Artisan Wood Flooring
How it's made. Craft Artisan Wood Floors in Burnaby, British Columbia, combines an artisanal approach to flooring with sustainable manufacturing. During the manufacturing process, the wood is hand sanded and hand stainedto enhance its natural qualities.
Craft's manufacturing reflects sustainable practices, as its certifications indicate. The brand has a Sustainable Forestry Initiative (SFI) Chain of Custody certification, which means a third-party verifies that each step of the manufacturing process is legal, responsible and sustainable. Wood used by this brand can be traced back to its originating certified sustainable forest.
Further, Craft products have Greenguard Gold Certification, indicating they emit very low volatile organic compounds (VOCs). This reduces indoor air pollution and the risk of chemical exposure in a home.
Unlike other companies that have sustainable flooring lines, all Craft collections are sustainable. This means you avoid the lengthy wait times associated with special orders.
Durability. Craft flooring is engineered to be durable. The core layer, or structural material, is Canadian Spruce-pine-fir (SPF) harvested from certified sustainable forests. SPF is solid-sawn, which means it is sawn from logs, as opposed to sliced or peeled to make plywood. The solid SPF structural component requires less glue than typical plywoodto adhere to the flooring's top wear, or surface, layer. As a result, the finished flooring is highly stable and much less likely than flooring made with typical plywood to experience board distortion or separation caused by fluctuations in temperature and humidity.
Where you can use it. Craft flooring can be used in most rooms, since it can withstand heavy traffic and the challenges that may come with pets. As with most wood flooring, bathroom applications are not ideal, however. Water is incompatible with any real wood floor because it seeps into the grooves of the wood and between the individual planks to cause irreparable damage.
Look and feel. Craft flooring comes in a range of finishes, from hickory to oak and black walnut, and offers aesthetics ranging from "modern zen" to "naturally aged" wood look.
For an active household, the company's reclaimed heart pine collection, made from salvaged century-old beams and decking from historic buildings across North America, is a good option. It has a low-fuss, rustic texture that celebrates the imperfections inherent to the wood's history. The salvaged wood is restored by hand to expose its natural patina and features like nail holes, wood plugs, wood patches and hand-chiseled bevels.
Care and maintenance. While Craft flooring is made with premium wood products, as with all wood it requires periodic care and maintenance. Spills should be wiped up immediately, and the floors should be cleaned regularly. For thorough cleaning, a kit such as Bona Hardwood Floor Cleaner with Bona Hardwood Floor Mop or an equivalent approved by the National Wood Flooring Association (NWFA) is recommended. Never use wax, oil-based detergent or general purpose household cleaner on Craft flooring.
To keep Craft wood flooring stable, maintain an indoor temperature of 60 to 80 degrees Fahrenheit (15 to 26 degrees Celsius) and relative humidity of 30% to 50%.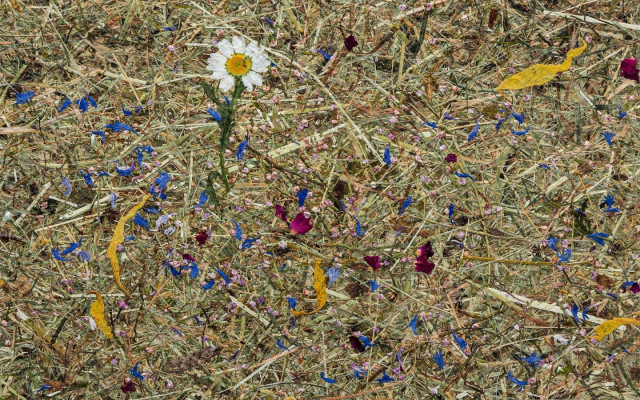 2. Organoid Pressed Alpine Hay Flooring
How it's made. Organoid makes flooring with surfaces of pressed alpine hay and florals. From rose or cornflower petals to daisies and moss, nature makes its presence known in this flooring material's look and its scent. You can literally smell the flooring's organic components in the room.
The natural surface of scented and textured hay and florals has a cork backing applied to a high-density fiberboard, which is a type of engineered wood product. Floor impact protection is added on the bottom of the fiberboard. For waterproofing and abrasion resistance, the surface is protected with polyurethane.
Organoid is one of the few manufacturers in the world to be carbon-positive. Each metric ton of hay the company uses binds withapproximately 3,300 pounds of carbon dioxide, helping to create a waste product that is environmentally neutral. In 2019 Organoid used about 28 tons of hay for its natural surfaces, so its products from that year alone bound with more than 92,000 pounds of carbon dioxide.
By comparison, a new car emits 0.271 pounds of carbon dioxide per kilometer on average. Using this average, the surfaces Organoid produces each year bind carbon dioxide emissions equivalent to that emitted by new cars driving 211,266 miles (340,000 kilometers).

Durability. The natural, petalled surface of Organoid flooring may appear delicate, but it is in fact a sturdy surface. This material has a very high resistance level, according to European standards, making it suitable not only for residential use but also for shops and restaurants. Organoid surfaces can be treated with conventional oils and varnishes to increase their resistance to abrasion and water, as well as to fading from light.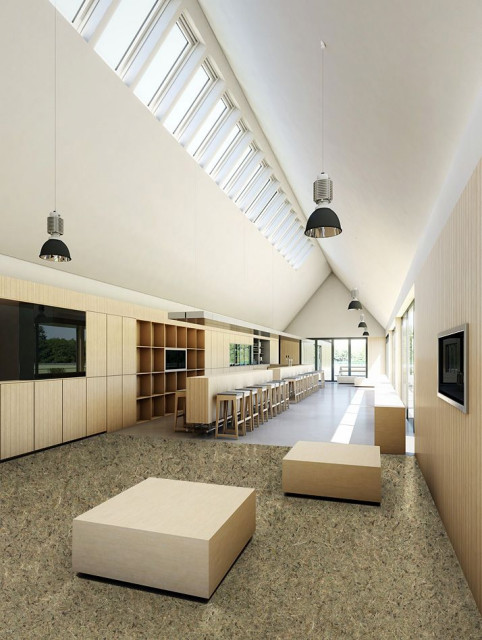 Where you can use it. Organoid can be used in any area of the home. For wet areas such as bathrooms or saunas, the company recommends the glue-down version of the flooring rather than the click-in floating system. An extra coating of epoxy resin can be added to this material after installation to protect it from scratches.
Look and feel. Organoid floors have an organic, natural appearance. Alpine hay, hop cones, cornflower blossoms, stone-pine needles and nearly any natural substance can be combined to achieve a desired look and palette. You can choose from a range of existing Organoid blends or create your own custom mix. This material makes a statement and would be an excellent way to add warmth and whimsy to modern and minimalist design schemes, or another layer of interest to an eclectic or maximalist space.

Care and maintenance. Caring for Organoid flooring is like caring for laminate or hardwood. Clean regularly with mild soap water on a damp mop. Never use detergents that contain acids, and don't soak the floor — otherwise water could seep into the joists and damage the flooring.
3. Cork Flooring
How it's made. Cork is harvested from a thin layer of tree bark, typically from cork oak trees, with care taken not to damage the tree. This thin bark is an impermeable, water-repelling material that is buoyant, elastic and fire-retardant.
To make flooring and other products, the bark layer is stripped into long, wide slabs that are thenused to make wine corks, bulletin boards, flooring and other items. Binders are added for flooring applications to hold the ground cork together. These binders vary by manufacturer, and therefore it's worth researching which binders are used before purchasing a particular product.
Cork is a natural insulator and sound absorber and can be recycled. Cork trees live for 300 years and aren't cut down to produce cork floors. This has made it a favorite of eco-conscious designers and homeowners.
Durability. Cork floors normally last longer than wood floors. They stand up to everyday traffic with the bonus of repelling water from spills. Cork is naturally resistant to mold, mildew and termites. It's also anti-microbial. Over time, discoloration of cork floors may occur if the flooring is exposed to direct sunlight. For many fans of cork flooring, this is a patina they embrace as part of the overall aesthetic.
Where you can use it. Cork's buoyant qualities make it soft underfoot and a great choice for rooms where you typically stand for long periods of time, like kitchens, laundry rooms and workshops. Its soundproofing qualities make it a wise choice for music rooms and apartments where noise may be a concern with neighbors.
Look and feel. If you want a warm, attractive flooring material with a comfortable, informal appearance, cork is the right fit. Since this material will develop a patina, it is probably not the best choice if you want a pristine floor material that will not change with time. Cork is available in tiles and planks and in many styles, colors and sizes. Alternating shades of cork can be combined to achieve unique patterns and custom designs.
Care and maintenance. Due to its highly textured appearance, cork naturally masks small scratches and stains. Regular sweeping, vacuuming and mopping with a damp cloth will keep cork floors looking their best. Avoid harsh abrasive cleaner and any cleaning products with ammonia. A simple solution of four parts vinegar and one part water is recommended.
4. Linoleum Flooring

How it's made. Linoleum is often confused with sheet vinyl, and as a result it is overlooked as a flooring option with positive attributes. True linoleum is made of natural materials. Linseed oil is oxidized to form a thick mixture that is then cooled and mixed with cork powder (which gives linoleum its bounce and resilience), pine resins and wood flour to form linoleum sheets on a jute backing. Limestone dust may be added for hardness and durability.
Due to its natural makeup, linoleum is biodegradable and does not emit harmful VOCs. Linoleum comes in glue-down sheets and snap-together tiles. During the glue-down installation process, special care should be given to select adhesives that are free of solvents and labeled "no-VOC."
Durability. Linoleum flooring can resist scratches and mask them well because its pigments are saturated throughout the material, not just the surface. Linoleum does, however, get dented by high heels and furniture legs. Linoleum is water-resistant but not waterproof. It should never be fully immersed in water, as this can cause edges, corners or seams to curl. Much like cork, linoleum can also fade, or turn yellowish, when exposed to sunlight. When properly maintained, linoleum can last as long as 40 years.
Where you can use it. Linoleum has traditionally been installed in schools, hospitals and commercial spaces, but it is making a comeback in the home. It's durability and versatility make it a good choice for many rooms. Not all manufacturers recommend linoleum in bathrooms, so check the manufacturer's warranty to ensure the product you choose is suitable.

Look and feel. Linoleum flooring comes in hundreds of colors, from subtle to vivid, and can be installed in a wide range of patterns. Your only limit is your creativity. Sheets in a single color work well for a modern aesthetic. Unlike wood, which has joints, or tile, which has grout lines, linoleum offers the opportunity to create a nearly seamless appearance.
Care and maintenance. Linoleum can be swept, dusted, or vacuumed regularly. For a more thorough cleaning, the flooring should be wiped with a damp mop or cloth using a solution of one gallon of hot water, one cup of vinegar and a few drops of dish soap. As with cork, avoid cleaning products with ammonia. Spills should be tended to immediately. Some manufacturers add a coating to linoleum flooring to protect it from scratches and fading. Without such a protective coating, linoleum should be cleaned and waxed every two or three years to maintain its luster.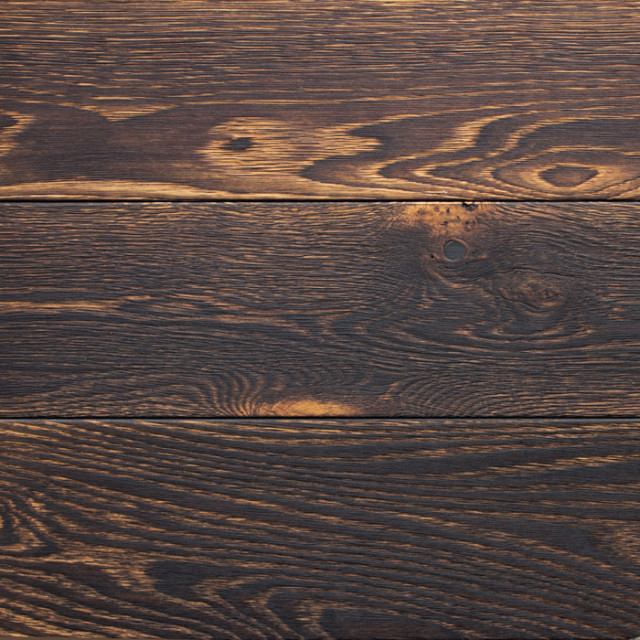 5. Burnt Wood Flooring
How it's made. Charred or burnt wood flooring is made using the ancient Japanese technique of shou-sugi-ban: treating wood planks with heat on their outward faces. This produces a scorched layer of carbon that is highly resistant to water, fire, mold and insects. Charred Wood Flooring, a collection of flooring manufactured by reSAWN Timber, uses this ancient technique. Once the wood is scorched, this manufacturer then cools, cleans and prefinishes the planks with hardwax oil. No chemicals, preservatives, paints or retardants are needed.
Designers and architects are drawn to burnt wood for its elegant appearance and sustainable qualities. By selecting wood, a renewable resource, from sustainable sources and applying this ancient Japanese treatment, manufacturers achieve a high level of resiliency. Ultimately, the longevity of burnt wood leads to less material waste over time.
Durability. ReSAWN Timber applies a nontoxic, zero VOC hardwax oil prefinish on its charred flooring for extra protection and resistance to wear. The hardwax oil connects molecularly with the wood fibers, adding strength to the planks. When regularly cleaned and maintained, this flooring will look good for many years. Charred wood can scratch and dent, but spots can often be repaired. This material is available in both solid and engineered wood forms. For flooring, reSAWN Timber recommends using engineered wood for added stability.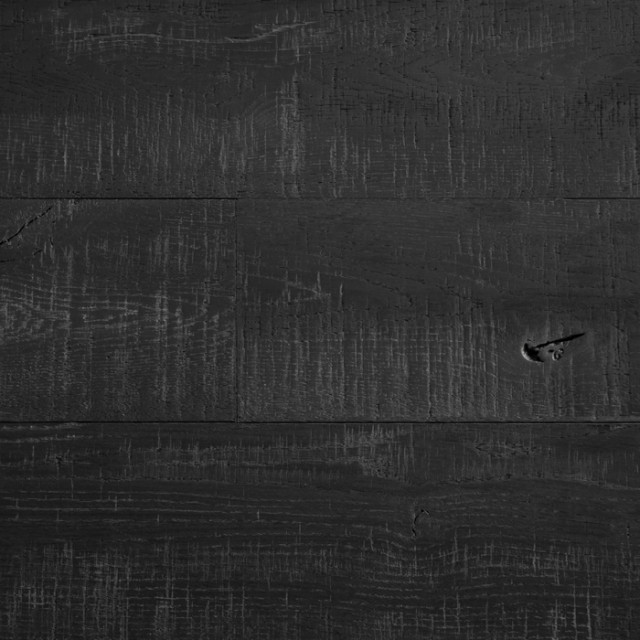 Where you can use it. Charred flooring can be used in most of the home. As with all wood flooring, wet areas should be avoided.
Look and feel. The shou-sugi-ban process produces an elegant surface with distinct lines and textural beauty. It is usually associated with a dark, rich charcoal appearance, as shown in this photo. This material has become popular in modern interiors because it offers a textured matte, almost black appearance that reads as chic, yet with imperfect qualities that balance the look for a fuss-free feel.