1. The Right Storage
Your kitchen cabinets make up the bulk of what you see in your kitchen, so your choice of cabinet color and style is a major, consequential decision. But the components inside your cabinets are equally important, if not more.
Your storage solutions determine how functional your kitchen is. When you're at the peak of cooking a large meal, you care less about the look of your cabinets and more about the ease of grabbing the right tools, spices, pots and other supplies.
A kitchen designer will often take an inventory of all the utensils, dishes, small appliances and pantry items in your kitchen to figure out the right storage components for you. Pullouts, rollouts and swing-outs will efficiently organize your stuff and make things easier to find and grab.
"When budget allows, we always, always recommend drawers or pullout shelves on the lower cabinet level," designer Lisa Janzen of KC Interior Design says. "There is nothing worse than having to get on your hands and knees to see what is shoved to the back on your bottom shelves. Drawers make it so much easier to access and a more efficient use of space."
Innovative Construction Inc."I'm a big believer in adequate storage," designer Carrie Moore of Carrie Moore Interior Design says. "While open shelving is pretty and we design with it, having ample closed storage is critical for a non-cluttered kitchen."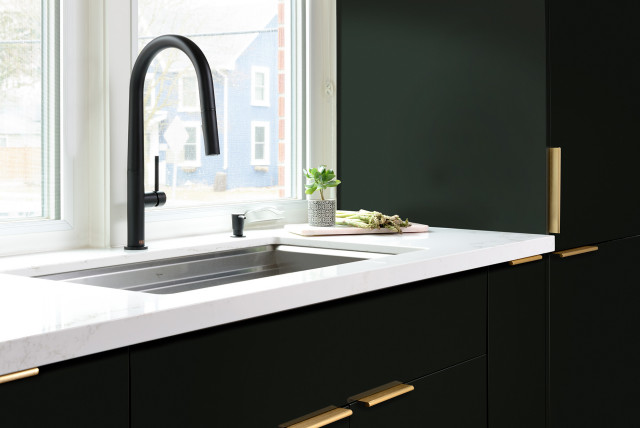 2. Hardworking Sink
Designers often recommend giving extra consideration to elements that you interact with the most. In a kitchen, that can be a lot of things, but the kitchen sink is one area that always sees a lot of action. So it makes sense to put a little more effort into designing the sink area and choosing components.
These days, many sink manufacturers offer designs called workstations, which feature add-ons such as cutting boards, strainers and prep bowls. "I always recommend a sink with gadgets," designer Brittany Steptoe-Wright of BSW Design says. "For example, the sink in this project [shown here] is a single, large undermount sink, but it has a colander, cutting board and drying rack that sit inside on a small lip and provide so much function. It's a game changer."Kitchen Design GalleryThe Galley Workstation shown here is a popular hardworking sink that includes several inserts for prepping and cleaning.
3. Layered Lighting
Different tasks in a kitchen call for different kinds of lighting. Cooking at the stove, chopping vegetables, washing dishes, chatting with friends, doing homework, displaying collectibles — these all require a specific light source. "I recommend layers of lighting and multiple fixtures to cover every area," designer Debbie Turner of Debbie Cahill Turner Design says.
This might include recessed ceiling lights for ambient light, spotlights to illuminate important work areas like the sink and range, pendant lights to light an island or peninsula, and windows to let in natural light during the day.
Designer Donna McMahon of KE Interior Solutions used a layered lighting approach in her own kitchen in Denver. Several recessed ceiling lights provide overall lighting, while undercabinet lights help with cooking tasks. McMahon even installed light strips below the base cabinets to create ambient lighting at night.
4. Island
Perhaps no design feature in recent memory has changed kitchen design more than the island. Indeed, it's hard to deny the benefit of a kitchen island. It adds extra countertop surface and storage and creates a spot for conversation, homework and meals. It can be a location for a cooktop, a dishwasher or a prep sink, and it often provides that crucial touch point that completes an efficient work triangle.
An island is a must-have kitchen feature for builder Kenneth Keating of Camlin Custom Homes. "A large kitchen island is a fantastic gathering place in any open-plan kitchen and gives the homeowner a flexible space to use for dining, entertaining or cooking," he says.
SV DesignAn island is also a favorite feature for designer Tina Rodda of Eyder Curated Kitchens. "My must-have amenity is a workstation on the island for food prep and serving and a large butcher block at the end for carving and serving fabulous roasts," she says.
5. Quality Cooking Appliances
A kitchen is meant for cooking. And your range — or cooktop and oven — will be the most important component for cooking meals. Think about how often you interact with a range and how its function affects the quality of your meals and the ease with which you create them. That's why many pros suggest you don't skimp on quality when it comes to selecting a range and other cooking appliances.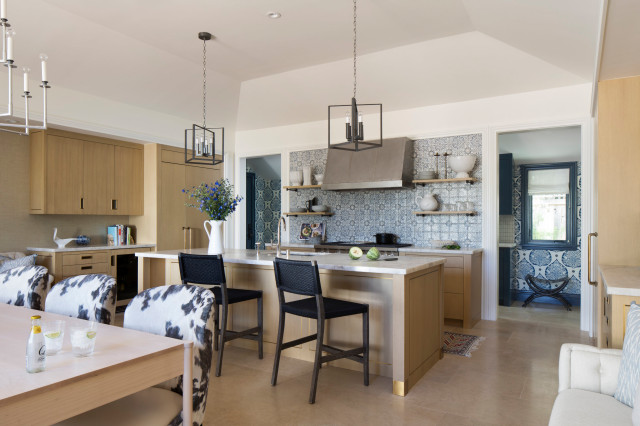 6. Custom Vent Hood

A ventilation hood removes cooking odors, steam and grease from the air in your kitchen. But because the appliance sits at or just above eye level, it's also an important visual element in the space. Many designers take it as an opportunity to create a stylish focal point, and going custom is often the way to go.
"I am a big fan of a custom metal hood," says designer Julie Rootes of Julie Rootes Interiors, who used a custom hood in the San Francisco kitchen shown here. "There are so many details you can pull in. It is one of the most important features of an elevated kitchen design. It's like the jewelry of the kitchen."