1. Make your own pendant light
Photo by Abelow Sherman Architects LLC
Sure, you can always go out and buy a pendant light—but with so much time on your hands, why not make one?
"Pendant lights are all the rage right now, but they can get expensive," says home blogger Jeneva Aaron of TheHouseWire. "This DIY pendant is stylish, super easy to make, and very affordable. It also has an earthy, organic quality that can bring some boho style to any room."
2. Hand-paint some throw pillows
Photo by Nisha Tailor Interior Design. LLC
Whether you're sick of your current pillows or just in need of a refresh, hand-painting your own throw pillows is a great way to give your bedroom the pop of color it needs.
"Can't find the perfect pattern for your throw pillows? Looking for some that match the exact colors in your room? If you can't find them, make them," Aaron says. "With a little bit of fabric paint, you can create the pillows of your dreams."
3. Build a rustic side table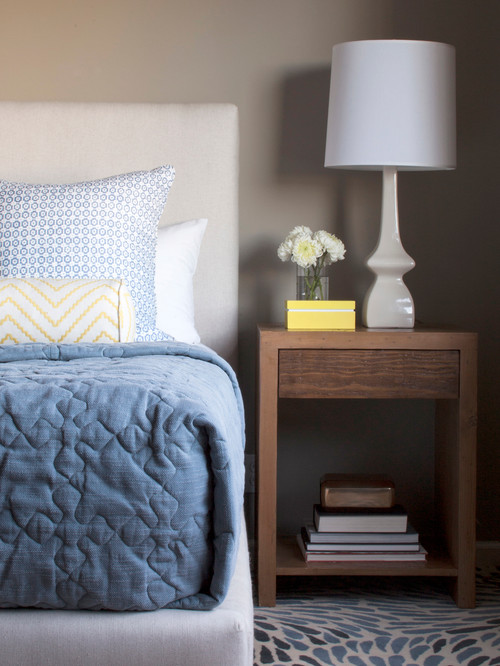 This simple, rustic side table is a breeze to make, and the final product will have everyone thinking you shelled out some real money and bought it.
"This is a great beginner project and, at only $25, you don't have to be too worried if you even mess it up," says Carmen Smith, owner of Living Letter Home. "But these detailed instructions are written such that it's near foolproof."
4. Add floating corner shelves
Have an unused corner of your bedroom? Then why not put it to work with a set of floating shelves?
"Corners are valuable spaces, but people often leave them empty," Aaron says. "And you don't have to buy shelves, either. It's easy to take some old wood and turn it into a corner shelving system where you can display books or decor."
5. Create a flower wall
We could probably all use a bit more flower power right now, but with parks and florists closed, you might just have to get creative to bring springtime vibes into your home.
"Fake flowers are severely underrated," says Aaron. "If you think they're too cheesy or chintzy, it's time to give them another shot. And don't limit yourself to simply displaying them in vases. This flower wall is a creative way to incorporate faux flowers into your decor, and it's supereasy to make."
6. Make a homemade shag rug
Photo by Tim Krueger Photographer
Don't have the budget for a fancy new rug? Then you're going to love this shag rug DIY guide.
"This kind of shag rug would cost you a pretty penny in stores," says Aaron. "But with some plastic netting and cotton piping, you can make your own. It's very, very easy to make, although it does take some time—but if you're stuck at home anyway, it's a great project to work on while watching TV."
7. Assemble a rope basket
Photo by The Good Home – Interiors & Design
You can never have too many storage baskets. But you might not have the budget to buy all the ones you need either. Enter this genius rope basket DIY.
"Whether you live in a seaside New England cottage or a chic Manhattan loft, this rope basket will look great in your home," Aaron says. "And it's very easy to make, which is always a plus."
8. Hand-craft a bed canopy
"Have you always wanted a canopy bed but never got around to buying one? Well, now you can make your own," says Aaron. This DIY canopy tutorial "will help you create a serene environment to relax in while you're stuck at home."
This simple bedroom canopy project will work on any size or style of bed—and hopefully grant you back some of those chill pre-pandemic vibes