1. Refreshing Pastels
Muted palettes of calming pastel colors have filled this year's furniture and design trade shows, with recently announced colors of the year following suit. From the looks of it, the trend has moved outdoors, with several of the vendors who showcased new furniture lines and color palettes at the ASLA expo leaning toward these softer shades.
Fermob, a French producer of colorful outdoor lounge and dining furniture seen in public and private gardens, displayed three new colors that will join its color family in January 2020: Iced Mint, Clay Gray (both seen in this photo) and Frosted Lemon.
In the press release for the 2019 Maison & Objet trade show in Paris, where these colors made their global debut, the company wrote, "These three pastel colors provide a touch of softness, freshness and light. They have been designed to exist alone, together or in combination with other colors from the color chart."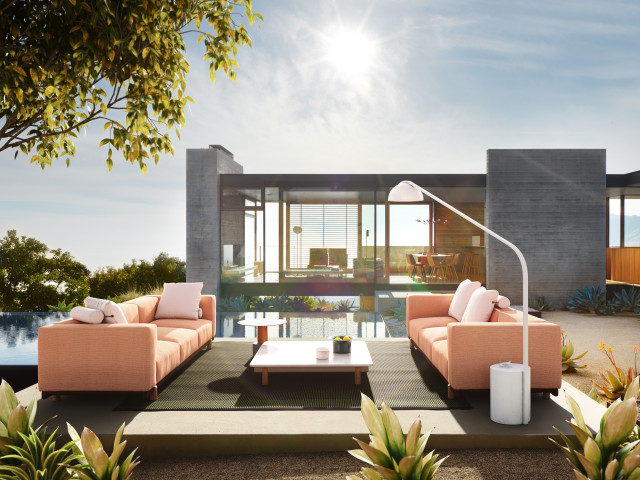 Pastels also dominated at Kettal, a Spanish company known for its designer collaborations and furniture pieces that blur the line between indoor and outdoor. At this year's expo, Ketall showed off its new Molo collection by Rodolfo Dordoni, an architect and a designer, which includes sofas, a deck chair and a table.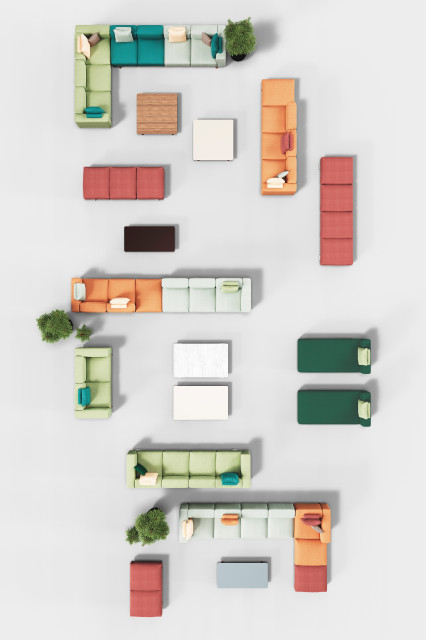 While some of the shades lean brighter and bolder, greens — including mint — and light pinks anchor the collection.
The oversize upholstered pieces are made of aluminum, teak and an acrylic-polyurethane fabric from Kettal called Terrain. The sofas are modular, making it easy to reconfigure and arrange them to suit an individual space and style.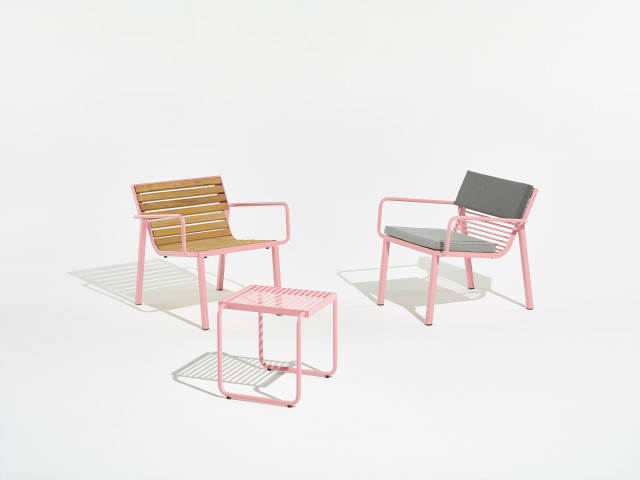 Mmcité, which specializes in street furniture but also designs for residential use, showcased an array of pastel shades, ranging from baby blue to light pinks and yellows, on its new line of outdoor furniture called Stack. The series debuted this year at an event in the Czech Republic called The Street; the ASLA conference marks its second appearance in the U.S.
Armchairs, sofas and tables are made of galvanized steel and a variety of wood lamellae, with the option of waterproof upholstery. The design emphasizes ease of use, simplicity and stackability. "We always aim to choose colors that best fit the design style of each piece," says Brianne Sayers, marketing and PR manager at mmcité.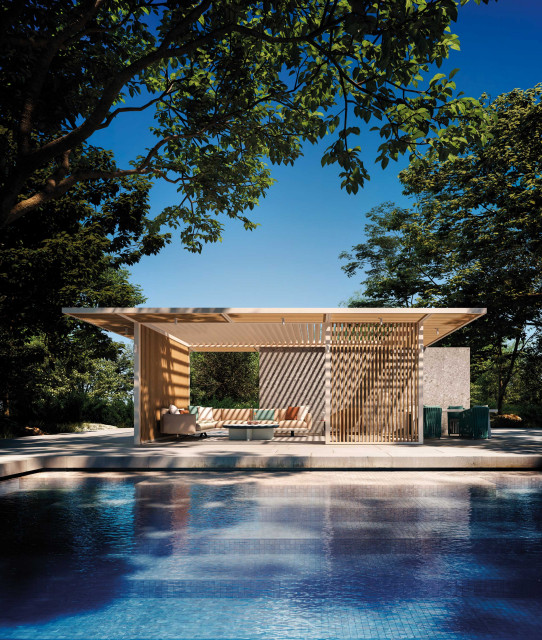 2. High-Performance Modern Pavilions
We've seen how outdoor spaces have become extensions of living spaces, with new furniture, lighting and decor inviting users to linger outside later in the evening and longer into the season.
The modernist-style pavilions at this year's expo have been designed for style and customization to prolong outdoor enjoyment. People living in climates with excessive heat and sun or those who experience lots of rain can personalize these outdoor structures to suit where they live, extending the use of their outdoor space as the weather changes over the day or year.
Kettal's Pavilion H, seen here, was erected at the expo. Available in seven sizes, ranging from about 20 feet long and wide to more than 130 feet long and wide, the aluminum-frame structure offers customization options for the ceiling, walls, canopy and accessories, such as lighting, electrical systems and TV mounts. Ceiling options range from cedar wood slats to a waterproof sunroof, an aluminum ceiling grid and more. Wall options include none (open air), curtains and enclosed tempered glass, with the option to make each wall surface different.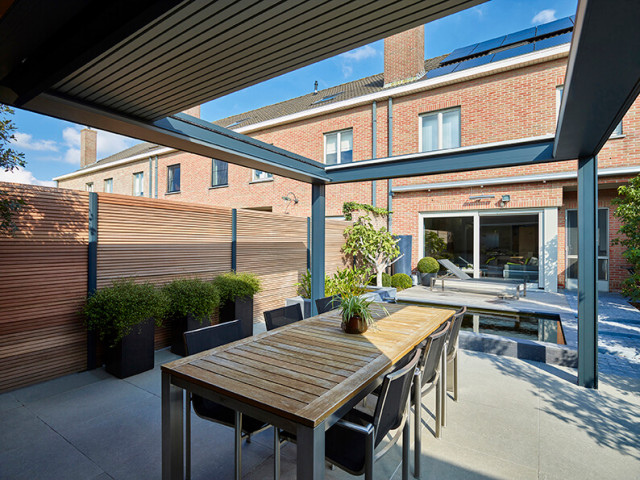 Belgium's Renson is a 100-year-old company known for innovations in indoor ventilation and outdoor shading. Its newest product is a retractable louvered roof patio cover called Camargue Skye, which debuted in the U.S. in June at the 2019 American Institute of Architects' Conference on Architecture in Las Vegas. It was introduced internationally in 2017 at the R+T show in Stuttgart, Germany.
The patio cover features aluminum blades that can rotate open and closed, as previous models did, protecting people below from rain or sun or allowing soft light to reach the ground below. What's new is that the roof can also completely retract, allowing maximum sunlight or visibility below (or to windows if the patio cover is functioning as an awning for a home).
Like the pavilion from Kettal, Camargue Skye also features customization options. It can be installed as a freestanding structure, fitted to an exterior wall and equipped with windproof screens, LED lights and more.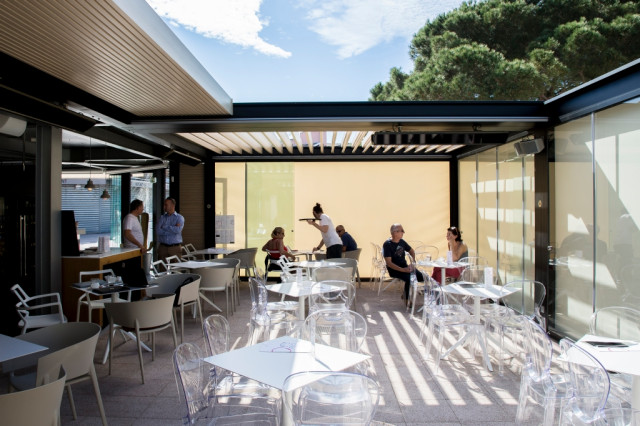 Here we see the roof extended with the louvers opened, allowing sunlight in and air to flow. The structure is suited for use in residential as well as commercial settings.
Corradi, an Italian manufacturer of outdoor pergolas and shade structures, also showcased a louvered-roof pergola. Controlled remotely, the blades on the aluminum structure can be rotated based on preference, time of day and season to create an outdoor environment that suits the user's needs.

3. More Choices for Strand Lights
Strand lights can subtly light outdoor spaces, create a cozy atmosphere and add overhead lighting to areas of the landscape without a roof or other overhead structure.
Lighting manufacturers at the expo promoted their latest cable lighting designs. Auroralight, a lighting designer and manufacturer in Carlsbad, California, showcased its new Catenary mounting system. The mounting system works with the company's line of brass and copper low-watt LED pendant lights, allowing designers to customize the arrangement and mounting style to string the lights across open backyards, patios or other unroofed areas. This image shows some of the company's pendant light styles mounted on its new Catenary system.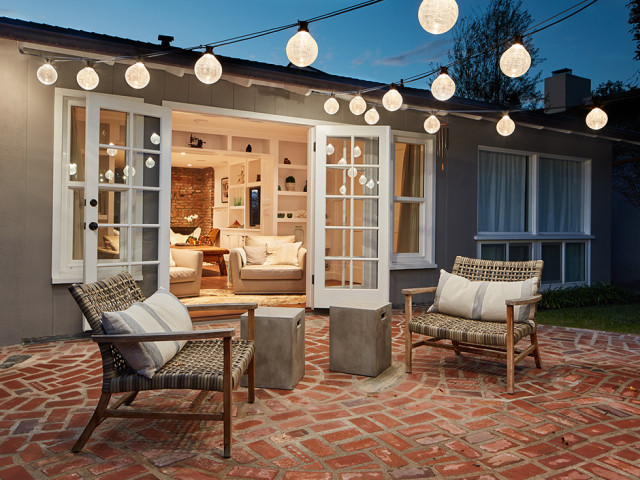 Tivoli, another designer and manufacturer of linear lighting, showed off its new collection of strand light globes, called Adapt. The line features 11 globe styles that produce distinct outdoor lighting effects, with designs ranging from inset diamond shapes to frosted-glass rings and ripple-textured glass. With Adapt, Tivoli built on its line of low-voltage LED strand lighting, giving designers more options for customization and impact. Users can add light shades and choose the light temperature and intensity they want, in consideration of nocturnal wildlife and light pollution.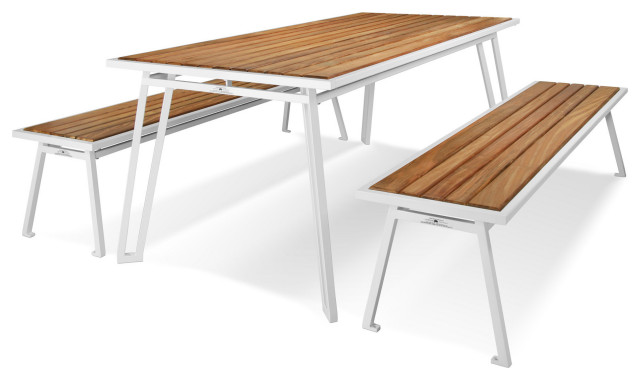 4. Clean-Lined Wood and (Mostly White) Metal

The ASLA membership includes architects who work in both residential and commercial design, so many of the products featured at the expo are not intended for residential use, including some of the outdoor furnishings. But it's worth pointing out one trend we saw in both commercial and residential outdoor furnishings, as it's so popular on Houzz: the use of wood and white (in this case white metal) together in simple, clean-lined designs.
Victor Stanley, which has specialized in site furnishings such as benches, bike racks and litter receptacles for 57 years, debuted its new line of outdoor furnishings, called Stella and Stunne, at the ASLA expo. Benches, tables and other furniture pieces in the line are available in several colors of powder-coated steel and corresponding ipe wood or recycled plastic slats; the pieces showcased on the floor were matte white. These will be available to the trade in early 2020.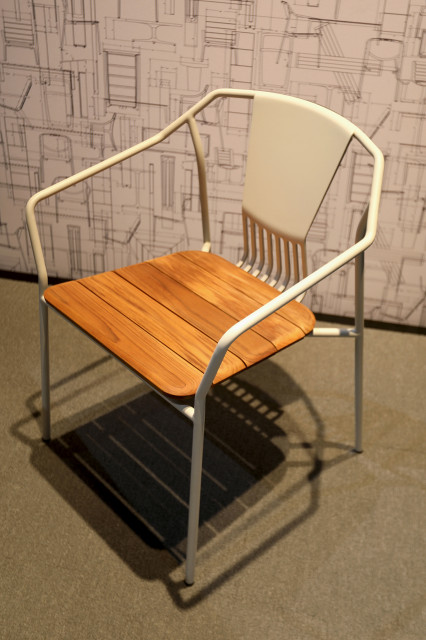 Manufacturers also used the expo as an opportunity to show new product prototypes. This was the case with Forms and Surfaces, a designer and manufacturer of architectural products. The company offered a preview of Factor, a new line of chairs and tables, and over the course of the expo gathered feedback on the design and materials to consider before general production in early 2020.
Powder-coated tubular stainless steel frames and wood seats and tabletops made with Forest Stewardship Council-certified cumaru or recycled reclaimed-teak hardwood (with other configurations available) create streamlined furniture pieces for sitting and gathering.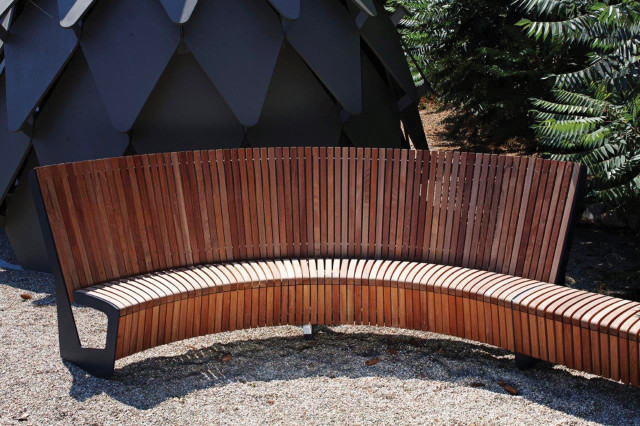 This modular, customizable landscape bench by mmcité, called Landscape Compact, was also showcased at the ASLA expo. It's made with galvanized powder-coated steel, like many of the commercial-grade furniture pieces, and lateral hardwood lamellae, either of tropical hardwood or acacia wood.