One in 10 homeowners remodeling a kitchen upgrades electronics as part of the project, and among this group nearly one-third include a home assistant such as Amazon Alexa or Google Home, according to the 2020 U.S. Houzz Kitchen Trends Study.
Noon Home
Home Assistants and Charging Stations Remain Popular
These numbers are in line with the popularity of home assistants and charging stations in last year's report. This year among the 11% of renovating homeowners updating electronics as part of their kitchen renovations, 31% are including a home assistant, while 49% are including a docking or charging station.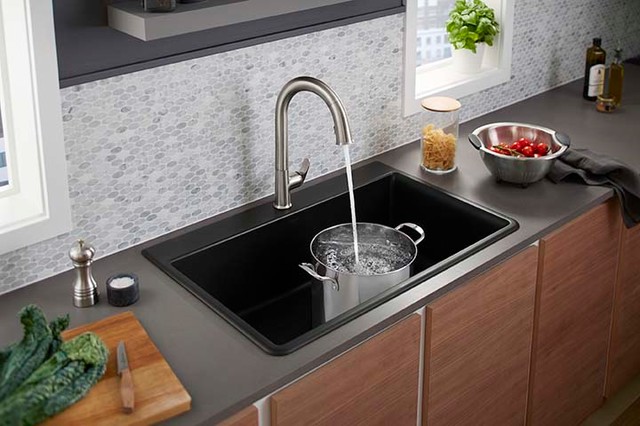 The Kohler Sensate faucet with Kohler Konnect turns on or off with voice command via integration with a home assistant device. Photo from Kohler
High-Tech Appliances and Faucets Less Popular Compared With Last Year
Among renovating homeowners upgrading faucets and appliances as part of their kitchen remodels, high-tech features remain fairly prevalent. Half (51%) of upgraded faucets are high-tech, with water-efficiency features (27%) or touch-only or touch-free activation (19%). One-quarter of major appliances have high-tech features such as wireless controls (14%) or built-in apps (5%), such as for recipes.
While these numbers aren't insignificant, the share of upgraded faucets and appliances that feature high-tech elements is smaller in this year's report compared with the year before: 57% of faucets and 30% of appliances were high-tech in last year's report, compared with 51% and 25% in this year's.