Declutter First
As with most organizing projects, I recommend starting by decluttering your unwanted items. This is typically the hardest part of the process since you have to make decisions. Making decisions takes time and can be mentally exhausting.
Try asking yourself if you like the item and need the item, putting aside all emotions attached to it. Your goal for bathroom decluttering is to keep only the items you use, like and need. In order to proceed, mentally and physically, I recommend removing all purged items (trash, donations, recycling) from your home as soon as possible.
Start by tossing all expired items. Many skin and body care products have an image of an open jar with the number of months you can use the product after it's been opened.
Some products, such as sunscreen and acne treatments, have expiration dates listed. If there are no indicators on the product, use your best judgment to assess and toss if it doesn't smell fresh, the product ingredients have separated or if the color looks off.
Categorize your items. 
Separate your remaining items into three categories: items you use daily or weekly, items you use occasionally (for example, items for special events, vacations or first aid) and items you don't use anymore.
The goal is to organize your daily and weekly items so they're at the forefront and easy to access, put away and keep organized. Occasional-use items can be stored in less prime spots to be accessed as needed. And Items you don't use should be discarded or donated.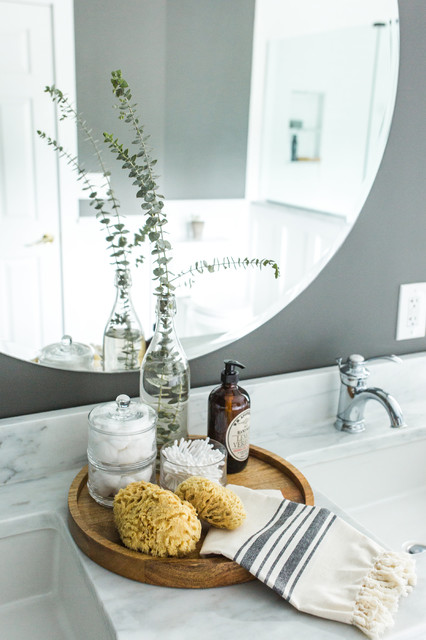 Let go of toiletries you know you won't use. 
When it comes to toiletries, sometimes we purchase things that just don't work out — that's OK, it happens. If you believe the fate of a product will be the same, whether it's now or five years from now, consider releasing it now so you can free up valuable real estate for the items you do use and like.
Unless you have an upcoming trip planned, consider using your free beauty samples as you get them or tossing them if they don't interest you. I recommend reviewing your toiletries every six months to ensure your products are still relevant for you and unexpired.
Don't store duplicates in prime spaces. 
If you keep dedicated cleaning supplies in your bathroom, consider keeping only one of each of your regularly used products and supplies easily accessible. Duplicates don't need to take up prime space.Review and discard any products that don't work for you and will likely go unused. Even if you have the space for it, be sure your bathroom cabinets don't become a collecting ground for rejected products and supplies.
You can always offer extra supplies to someone who will appreciate and use them, but only if you don't have to spend much time to get rid of them. A neighbor whom you can easily and quickly pass things on to would be an ideal recipient.
Basic Improvements
if you have a lot of different toiletries — and you have the room for it — I recommend separating them into their own spaces. For example, separate makeup brushes, eye makeup, lip products, skincare and more into their own storage containers. If your routine is relatively basic with few products, you can group items by broader categories. For example, one storage container can house all of your daytime routine items and another can be for your nighttime items.
Storage containers. 
Containers vary greatly in material and cost. Small containers for bathroom drawers can be found at discount stores, general merchandise stores and specialty stores. If you can't find what you need in the bathroom organization section, consider looking in kitchen storage, arts and crafts storage or even food storage for suitable containers. There may be more flexibility since most toiletry items are relatively small.
Specialty storage products. 
If your bathroom is small and lacks adequate storage, consider reasonably priced organization products such as shower curtains with pockets, over-the-door hanging organizers and small shelves above the toilet.
Most vanity spaces under the sink are spacious cavities. Consider making more use of the vertical height with tiered storage. Alternatively, if you store infrequently used items under the sink, you may be able to sort these items into containers with lids and stack them.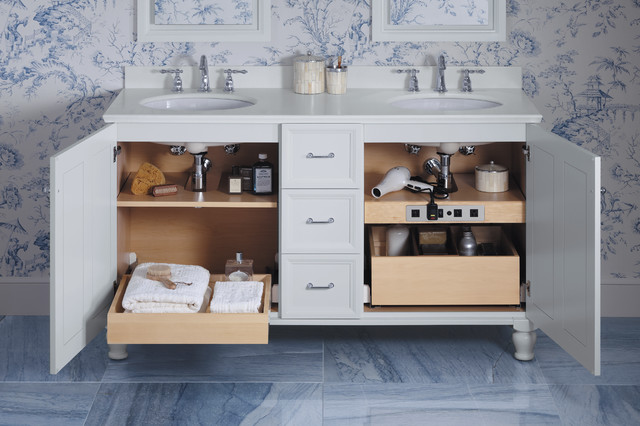 Midrange Improvements
If your budget allows, you may want to consider more elaborate installations to create improved storage and efficiency.
Sliding drawers.
 Sliding drawers in deep cabinets are my favorite addition that make a huge impact. Sliding drawers not only make it easier for you to view and reach all items, but items won't get lost and forgotten in the back of the cabinet. They are easily available for purchase online and require basic installation skills that any handyman should be able to complete if you don't want to install them yourself.
Freestanding cabinet. 
A freestanding cabinet can serve as a decorative piece of furniture as well as a functional space to store items out of sight. There are many options available that are small or narrow and fit easily into the extra spaces in a bathroom. There are also some that extend from floor to ceiling and appear to be more built-in.
Upgraded vanity. 
Sometimes a number of small additions can add up to a lot of expense. You may want to consider changing out your vanity for something that will fit your needs better instead of piecing items together to create a storage solution that may not necessarily be ideal for you. The price range of vanities is vast. You can find inexpensive off-the-shelf versions online or you can have a vanity custom-built for your space and to your specifications.
Deluxe Improvements
If the time is right for a remodel, this is a great opportunity to incorporate the features you want in your bathroom. As you go through your daily routine, be conscious of your habits and take note of what can be done to improve the ease and efficiency of your bathroom tasks.
For example, if you use your hair dryer every day, perhaps you can integrate a main drawer with power outlet dedicated to your dryer, styling tools and hair products. The medicine cabinet and vanity drawers should be reserved for the highest-priority tasks.
Custom vanity. 
When planning a custom vanity, consider measuring the heights of some of your commonly used products and, if it makes sense, be sure the drawer design provides adequate clearance for the products to be stored upright.
Instances where it wouldn't make sense would be if you have only one unusually tall product. It may not be wise to design a deeper drawer to accommodate just one product, as you'll be taking valuable space from the drawers above and below it.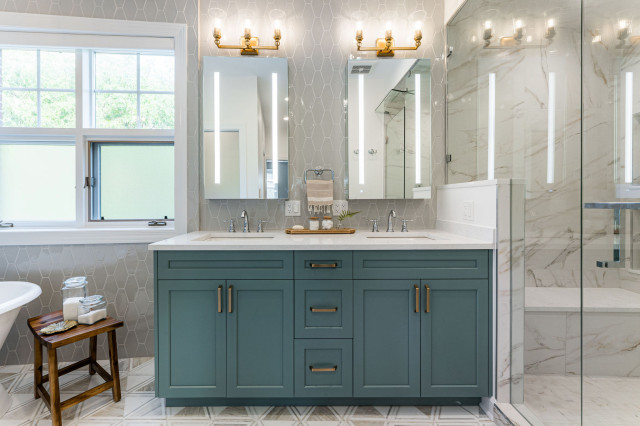 Medicine cabinet enhancements. 
In addition to considering adequate storage space, decide if your medicine cabinet will benefit from lighting, power or refrigeration. If possible, gather a general idea of what you may want to keep in there so you can target your needs and balance those with the cost of the additional features.