Getting Started
Your first step in adding an outdoor bar or counter is deciding exactly what type of setup will work best for you. Bars and counters are fairly similar in construction and materials, although each has its own pros and cons.
DeGoey DesignsBenefits of a bar. Bars are usually higher than a standard countertop, so you can stand or sit at them. A bar is usually not as wide as a counter, so its usefulness for food prep or dining may be limited. It can be a standalone piece, attached to a countertop or overlooking the grill area.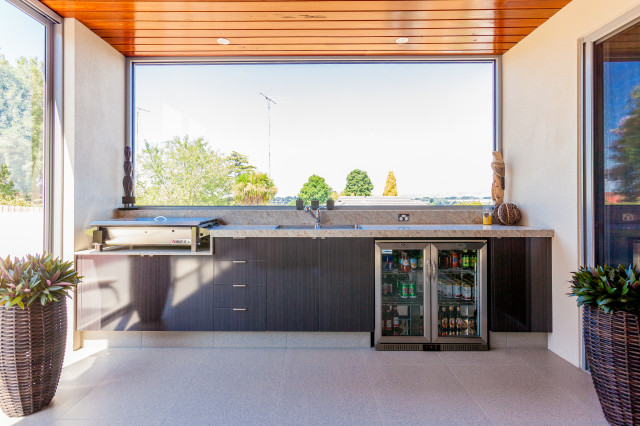 Benefits of a counter. A counter is a flexible space, usually wide enough to prep and set out food, as well as a place to enjoy a drink or a meal. You can install a counter as a separate piece or attach one to either side of your grill area for additional prep and cooking space. Most counters are set on a standard base, like your kitchen counters
Whom to Hire
For most outdoor bars or countertop projects, you'll want to hire a landscape contractor who is familiar with building outdoor entertaining spaces. If you're thinking of this feature as part of a more extensive outdoor kitchen and entertaining area, you may want to consult with a landscape architect or designer. You will need a licensed professional to install electrical and plumbing lines, if needed.
Before you hire anyone, be sure they are familiar with the scope of the project and are experienced in handling the materials you want to use. As with any project, check reviews on Houzz and elsewhere, and ask for references and to see examples of work.
Design Considerations for an Outdoor Bar or Counter
Bars and counters can work well in a number of outdoor spaces. They also can sport a variety of shapes and looks. Your first step in planning is to determine what type of bar or counter will fit your needs and achieve your outdoor living goals.
Where it will go. Think about what will work best for your space and for how you're planning to use it. Putting a bar or counter near the grill creates a convenient prep area and gives everyone a spot to sit and chat around the cooking area. Setting a bar slightly away but still near the outdoor cooking and dining areas adds another spot for family and friends to gather.
Adding a bar or counter area to another part of your outdoor space provides a secondary destination for entertaining. If you have a great view, perhaps position a bar to overlook it. A bar or counter can be a good addition to a pool or spa area. You can also add a bar or counter to a gazebo or position it under a pergola.
Don't overlook the possibility of adding a counter under a window or along a wall. A counter under a kitchen window provides easy access between the kitchen and outdoor space. Placing a counter along a wall is a simple way to add additional serving space for large crowds without taking over your entertaining space. You also need to consider the elements when deciding where a bar or counter should go. Getting too much sun can make an outdoor bar too hot to gather at during the day, so you may want to place it under a shade structure or cloth, umbrella or roof. The same is true if you want to sit outside while it's raining. Also think about wind when placing your outdoor bar or counter.
Size and shape. Your bar or counter can be practically any size you want, from a tiny space for one or two to an expanse long enough to seat a crowd — or at least a good number of friends or family members. As in a kitchen, you can have a long, straight run, an L- or U-shaped option or even create a freeform look.
You also need to make sure your bar area is a good height and width for how you want to use it. Here are some standard guidelines to follow.
Height: Bars are generally about 42 to 46 inches tall, although some are as high as 48 inches. A comfortable counter height is 36 to 38 inches. If the counter is doubling as a table, 30 inches is a better height.
Width: You don't want your bar top to be less than 12 inches wide. If you want to add an overhang, allow another 12 to 18 inches. An overhang should be no more than one-third of the total bar top width. A counter should be at least 24 inches wide, and up to 38 inches wide for maximum comfort. If you're incorporating your countertop around a grill, make it at least the width of the grill. Most pros recommend having 36 inches of workspace around a grill; a good option is 24 inches on one side and 12 inches on the other side. If you want to add a sink, allow for a minimum of 18 inches on both sides.
Length: The length will depend on both the available space and the number of people you want the space to hold. Allow 24 to 30 inches of linear space per person.
Also plan on allowing 26 to 42 inches of clearing behind the stools or chairs if you're incorporating seating.
Style. There are plenty of style possibilities for your new bar or counter. You can opt for a traditional look, go with something rustic or natural, turn to a Mediterranean or Southwest feel, create a tropical vibe or add contemporary style. Matching your home's architectural style will give the new outdoor feature a sense of permanence. Going in a different style direction can give you the chance to create a distinct space separate from your home.
Countertop Material Options
In addition to looking good, outdoor countertops need to be resilient enough to handle outdoor conditions. Top material choices include stone, wood, concrete, metal and new manufactured materials. If you live in a warm climate, you can add outdoor-rated tile to the mix. Prices can vary, but most lie within a general range from moderate to expensive.
Keep in mind that not all countertop materials that work well inside your home can be used outdoors. Engineered quartz, solid surfaces, laminates and indoor-rated tiles aren't recommended for outdoor use because they don't hold up when exposed to the sun and other elements.
Whatever material you choose, you'll need to be sure the base of your counter or bar is strong enough to support it. You may need to add reinforcements beneath the counter or bar. Look to a professional with experience to fabricate and install any countertop.
Granite. Stone is a go-to material choice for outdoor use, with granite topping the list as being readily available and durable for counters and bars, according to designer John Algozzini of KD Landscape in Chicago. It's a long-lasting option that is hard wearing, heat-resistant, nonporous and cleans up easily with soap and detergent. It is also available in an almost inexhaustible range of colors and veining patterns.
Keep in mind that darker colors will get hotter in the sun than lighter ones and that slabs with heavy veining are more likely to show signs of sun and liquid exposure. You may need to apply a breathable sealant when the slab is installed and then reseal it on a yearly basis to keep it from discoloring and possibly staining. Granite falls in the moderate range in terms of costs.
Quartzite. Quartzite is a natural stone that looks like marble, with the same gray to white colors, but it is much easier to maintain. This material is not to be confused with manufactured quartz, which cannot be used outside. It is considered as durable and heat- and stain-resistant as granite and resists UV rays, so it won't fade in the sun.
Cleaning quartzite is easy, requiring just water and a simple detergent. While most quartzite is stain-resistant, it's best to seal the stone and reseal it at least once a year. It also can be damaged by sharp objects. Quartzite is one of the most expensive options.
Soapstone. Soapstone can also make the transition from indoors to outdoor use. It's a nonporous stonethat is both heat- and stain-resistant. Your color choices are limited to grays, blacks and some greens, which can be hotter than light-colored materials.
Soapstone doesn't need to be sealed, but applying mineral oil will help cover fingerprints, oil stains and small nicks and scratches. It can be cleaned with soap and water. It is usually more expensive than other choices.
Other stone countertop options. Some stones, such as limestone and travertine, are beautiful, but they are more prone to damage and require much more care.
Slate comes in a range of light to dark grays and is often a less expensive choice than granite or quartzite. Slate is heat-resistant and can be cleaned with water and a pH-neutral stone cleaner. Durability, density, smoothness and stain resistance can vary extensively. Slate's dark color may also be too hot when exposed to sunlight. It also can chip and crack. You will need to seal slate regularly.
Marble will give your space a classic look, and the light color will keep the surface cooler. Marble is softer and more porous than granite and quartzite and subject to etching, especially from acidic foods, drinks and stains. It will also show its age over time, giving it a more weathered, less pristine look as it wears. Marble is generally heat-resistant and durable and can be cleaned with soap and water. Opt for honed marble for the best long-term look, and plan to reseal it regularly. Marble is a more expensive option.
Sintered stone is a manufactured product that's a fairly new addition to the market. It's a combination of porcelain, glass and quartz. You can find it in a wide range of colors, textures and looks, even mimicking other materials. It's weatherproof, heat- and stain-resistant, chip-resistant and almost maintenance free, just requiring regular cleaning. Though it can handle hard use, there are reports of it cracking and breaking if heavy items are dropped on it, and it's expensive to repair. Sintered stone can be hard to find, and the price ranges from moderate to relatively expensive.
Wood. Wood is stylistically versatile — it can feel traditional, rustic, nature-inspired or casual. If you're adding a bar area, it seems natural to have a wood countertop. That said, it's important to consider outdoor conditions when selecting wood for an outdoor bar. Sustainably harvested tropical or marine-grade hardwoods such as teak or cedar are good options for an outdoor wood countertop.
Wood is more high-maintenance than other materials and can be damaged by cuts and heat. You will need to sand and seal it often with a food-safe sealer. Using a marine-grade varnish will help, but it will also yellow somewhat with age. Keeping wood out of direct sunlight and rain or snow will also help to slow aging. Try to steer clear of installing a wood counter next to a grill. You can add fireproof materials, but it's safer to avoid using any flammable materials near a flame.
A wood countertop can range from being fairly inexpensive to somewhat costly, depending on the wood you use.
Concrete. Concrete is a great choice for a contemporary look. It's impervious to the elements and cleans up easily. It can be shaped and tinted to fit your desired look. Concrete can fade or develop small cracks over time. Sealing the concrete can help prevent that to a degree. Concrete requires a professional to fabricate and install it and can be a more expensive option, especially if specialty tinting and shaping are involved.
Tile. Consider tile if you live in an area with warmer winters. Even in warmer climates, you'll need to choose tiles that are rated for outdoor use. Porcelain tiles are a good choice. Granite and slate tiles are also available and have the same outdoor-friendly attributes as their slab relatives. Slate tiles may differ widely in looks and smoothness, so it's best to choose each individual tile at one time to be sure they will match.
Generally, tile is the least expensive option for a countertop. It is also easy to take care of. You can remove and replace an individual tile that has chipped or cracked. While the tiles themselves may be fine, be aware that the grout is prone to cracking and darkening.
Base Material Options
Unless you're choosing to attach a bar or countertop to a wall, you'll need a base to put it on. The base you choose won't take quite the beating from the elements that the counter or bar top will, but it still needs to be hard-wearing enough to handle being outside year-round.
A base that will incorporate a grill requires extra precautions. Fireproof boxing around the grill area is a necessity. You'll also want to avoid using wood or other flammable materials around an open flame
Once the base is in place, how you finish it is up to you. Both natural and manufactured stone facing can give your bar or counter a polished and timeless look. Brick lends a traditional feel. Wood adds a natural or rustic touch and pairs well with other materials, including stainless steel, corrugated metal, bamboo and thatch. Or, mix and match cladding for a custom look.

Concrete and stucco work well in most settings and can be tinted to a custom color.
Stainless steel is another option for the base of a bar or countertop. It can be less expensive than wood, and you can find premade cabinets designed for outdoor kitchens. There are also options that are designed to hold grills safely.
Most premade stainless steel cabinets will have feet to help keep them stable and level. Anchoring them to a wall is another way to stabilize them. Stainless steel is easy to care for but can become extremely hot in the sunlight.
Bonus Bar Features
A simple bar or counter may be all you need to complete your space. However, before you begin with installation, think about other amenities you might want to include in your design. Some are fairly simple to include; others will take a bit more planning and money.

Storage. Additional storage built into the base of a bar or counter gives you a place to store glassware, tableware and other outdoor kitchen accessories, cutting down on the number of trips in and out of the house. You can buy specially designed premade cabinets or have them included as part of a custom design.
Lighting. Task lighting can make drink and food preparation easier. Ambient lighting can set the mood, whether it includes wall-mounted lights or simple string lights.
Consider including a lighting plan to address these issues when you are finalizing your design. That way you can plan your approach to providing necessary lighting for the area, especially if you will need to incorporate additional wiring into the space.
Sinks and coolers. Consider adding a sink to your bar, which should be at a comfortable countertop working height. An undercounter refrigerator or beverage cooler also lends itself to the outdoor bar experience. A tap or a long cooler trough designed to hold ice, bottles and cans can also be incorporated into an outdoor bar. You could even add a built-in blender or ice maker.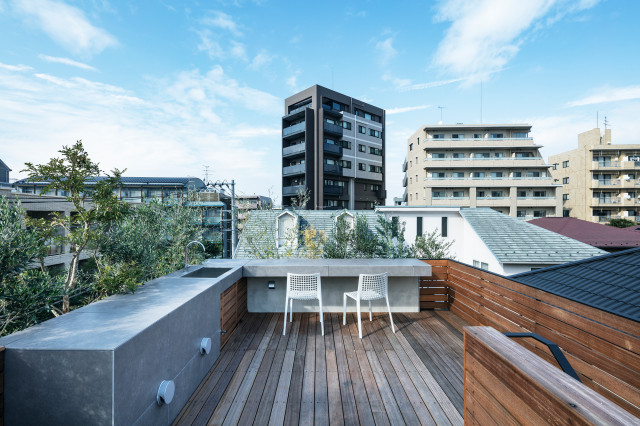 Other Considerations for Adding an Outdoor Bar or Counter

Permitting and codes. Before starting any project, check with your local building department about local codes and zoning regulations; ask about any permits you might need, even for the simplest project. Also check for any homeowners association rules and regulations you might need to follow.
When to do this project. Adding a hardscaping feature to your landscape is usually best done during good weather from spring to fall.
How long it will take. For a simple project, plan for about a week to two weeks, according to Algozzini. Rob Douglass, of Texas Custom Patios in Houston, also says to plan for about one to two weeks, providing that everything is in place and the different trades are available. "I hate giving an exact time frame, but if the trades were on standby and all the materials were on-site and ordered to perfection, then yes," he says. Both agree to allow more time for more complex installations, especially if you're adding amenities.