Many homeowners remodeling their master bathrooms are selecting soothing, neutral palettes to complement their transitional, contemporary and modern-style spaces, according to new Houzz data. And farmhouse style, which had risen in popularity in master bathroom upgrades in recent years, has now declined.
The 2019 U.S. Houzz Bathroom Trends Study includes responses from more than 1,300 registered users of Houzz who had completed a master bathroom remodel in the previous 12 months, were working on one or were planning to start one in the next three months. Here are the styles, colors and floor and wall finishes people are choosing most often.
Transitional style marries a traditional look with contemporary style.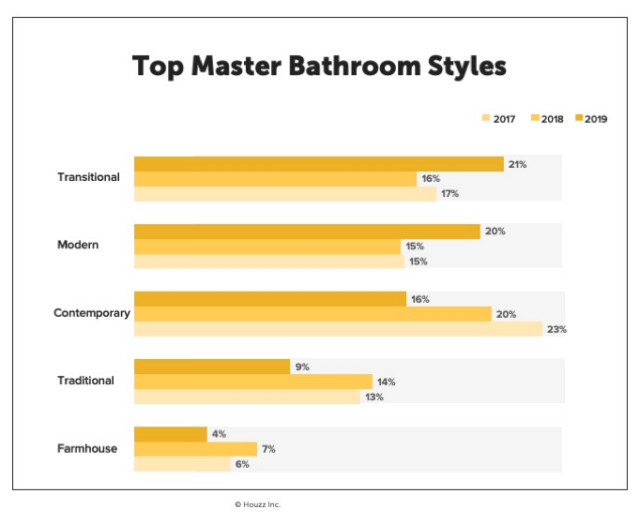 Transitional Is the Most Popular Style for Upgraded Master Bathrooms
Nine in 10 homeowners change the style of their master bathroom during renovation, and more than one-fifth (21%) choose transitional style, making it the most popular design style for updated master bathrooms. Transitional blends the classic elements of a traditional look with the clean lines and subtle color palette of contemporary style — for example, a Shaker-style vanity with sleek hardware and streamlined lighting and mirrors.
Modern style comes in as the second-most popular design style (20%) for upgraded master bathrooms. Both modern and transitional gained steam in 2019, jumping 5 percentage points each compared with 2018. Both styles lend themselves to a calm color palette of neutral tones.
Meanwhile, contemporary (16%) and traditional (9%) design styles fell in popularity among homeowners remodeling their master bathrooms, down 4 and 5 percentage points, respectively, from the previous year. Farmhouse style, which had surged to 7% in 2018, fell to 4% this year.
White is the most popular color for upgraded master bathroom vanities, while gray is the most popular color for walls outside the shower.
White and Gray Are Top Color Picks
Homeowners renovating their master bathrooms are showing a strong preference for neutral tones in the major elements of the room: vanity, counter, flooring and walls. Gray and white are the top color choices overall. Here's how the colors break down by bathroom feature:
Vanity. White is the top color choice for upgraded vanities (34%), followed by wood (29%), gray (16%) and brown (6%).
Counter. White is also the No. 1 pick for upgraded countertops (46%), followed by multicolored (18%), gray (12%) and beige (10%).
Flooring. Gray is the top choice for upgraded master bathroom flooring outside the shower (31%), followed by white (19%), beige (15%) and multicolored (13%). Notably, white is gaining popularity among renovating homeowners, up 3 percentage points from 2018, when 16% of floors upgraded as part of a master bathroom renovation were white.
Walls. For walls outside the shower, gray is the most popular choice (29%), with white a close second (27%), followed by beige (13%) and blue (13%).
Shower walls. For upgraded walls within the shower, the most popular colors are white (40%), gray (20%) and beige (14%).
A majority of homeowners renovating their master bathrooms (84%) upgrade the wall finish.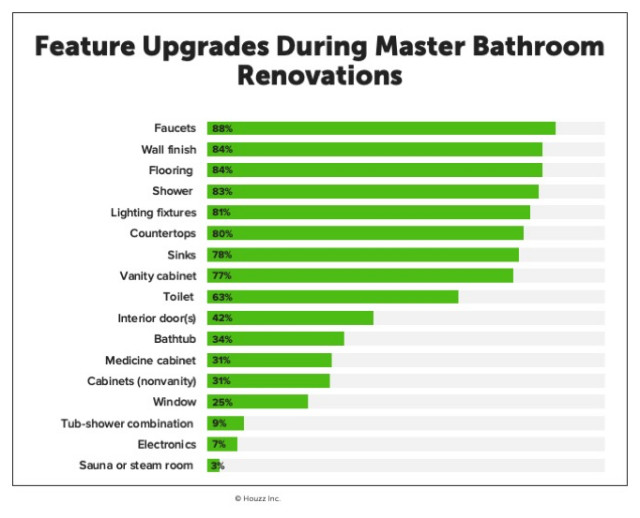 Faucets, Wall Finishes, Floors Are Top Features to Upgrade
While faucets are the most common feature (88%) to upgrade during a master bathroom project, a majority of renovating homeowners address major features as well, including wall finishes (84%), flooring (84%), showers (83%), countertops (80%) and sinks (78%).
Storage is also important to many renovating homeownersupgrading their master bathrooms: 77% upgrade or install vanity cabinets, 31% medicine cabinets and 31% other cabinets.
This bathroom floor features ceramic tile, which, along with porcelain tile, is the top material for upgraded floors outside the shower in master bathroom remodels.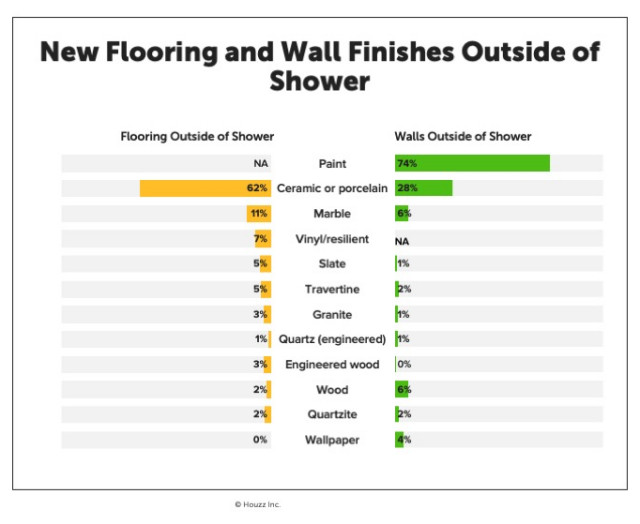 The Most Popular Materials for Floors and Walls Outside the Shower
Flooring. Eighty-four percent of renovating homeowners upgrade flooring as part of their master bathroom remodel, and among those who do, ceramic or porcelain tile is the top choice outside the shower. (They're also the top pick within the shower.)
The popularity of natural stone — marble, granite, travertine, slate, quartzite, onyx and limestone — for flooring outside the shower is on the decline (a combined 25% in 2019, compared with 30% in 2017). Meanwhile, vinyl/resilient flooring and engineered wood are on the rise, capturing a combined 10% of upgraded floors in renovated master bathrooms in 2019, compared with 6% in 2017.
Walls. For walls outside the shower, the top finish among those upgrading non-shower walls is paint (74%), followed by ceramic or porcelain tile (28%). (The numbers add up to more than 100% because renovating homeowners surveyed could choose more than one option.)