Many new tile products in 2020 feature geometric and floral patterns, a continuing trend. And recent overall design trends like dark walls, muted tones and the color blue have made their way into tile design. "We are seeing lots of large-format tiles. They offer a new, fresh look with an easier installation," says Cindy D'Alessio, director of special projects at Emser Tile. "Also, metallic finishes or accents, the addition of textures in traditional pieces like the subway [tile], and designed or patterned tiles."
The latest tile trends have been on display at recent design and building trade shows, such as The International Surface Event, the International Builders' Show and the Kitchen & Bath Industry Show in Las Vegas. Some of these products will be available later in the year. Here is a look at three top trends for tile in 2020.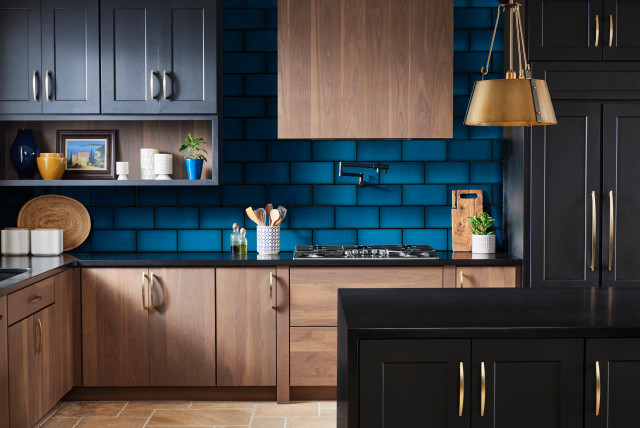 Julie SheerPhoto from Emser Tile
1. True Blues
The color blue is definitely having a design moment. A denim-like blue was chosen by both Pantone (Classic Blue) and Sherwin-Williams (Naval) as Color of the Year for 2020, and the tile world is responding in a big way.
Shown on the backsplash here, Emser Tile's Ombre features a bright center and saturated edges. It's a modern take on traditional subway tile, and in blue it makes for a striking accent color.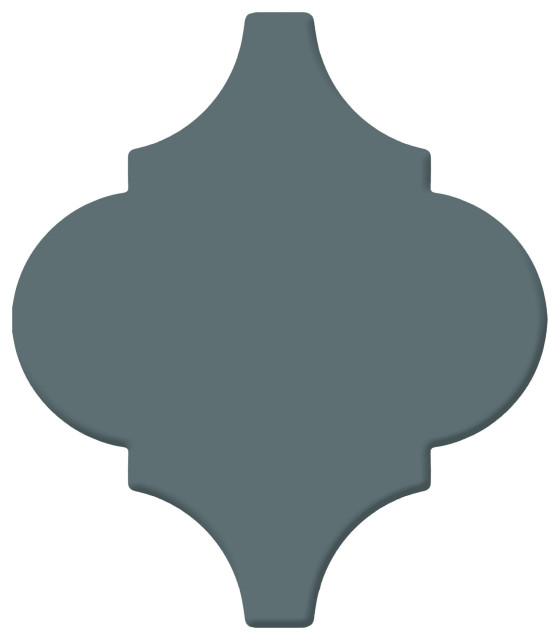 Julie SheerDaltile's shapely Arabesque (shown in the Aura color) and angular Picket styles from its new Mythology collection come in this year's favorite shades of blue.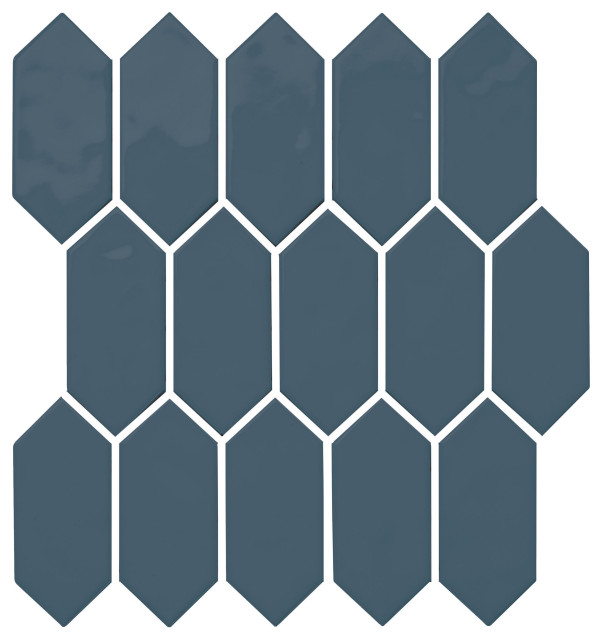 Julie SheerHere's the Picket style in the Titan color.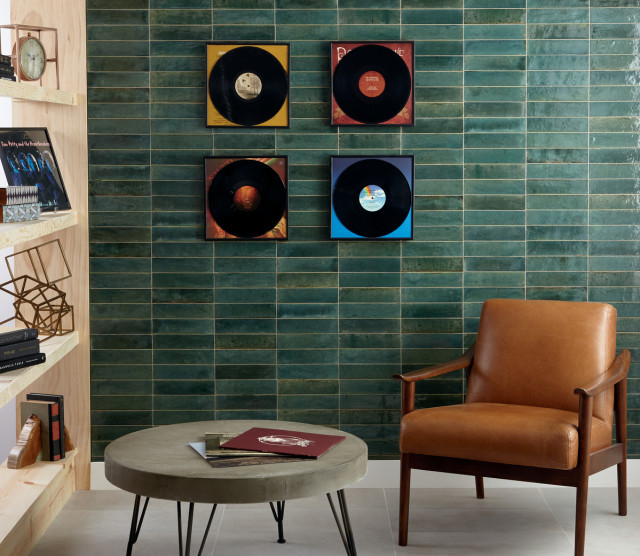 Julie SheerPhoto from Daltile
With a glossy brick look, the tiles in Daltile's new Remedy collection are a sleek take on subway tiles, and in blue they make a wall really shine. The wall tile here is the collection's blue-green Aura color.

Julie SheerThis is Remedy in the blue-dominant Hydro color.

Julie SheerEmser Tile has other new blue offerings this season as well. Shown here is Euphoria in the Ocean Arrow color. Euphoria is part of the spring collection and will be available in May.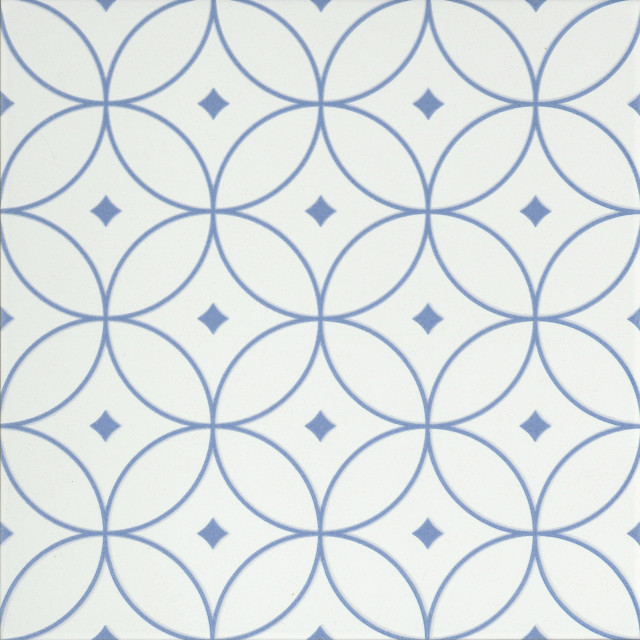 Julie SheerAnd this is a design from Emser Tile's new Geometry line in Atom Blue.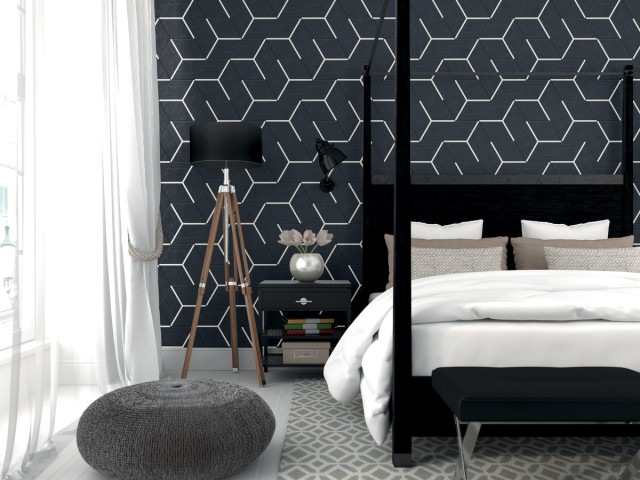 Julie SheerPhoto from Daltile
2. Wide-Ranging Shapes and Patterns
Whether in the shape of the tile or a pattern baked onto it, geometric hexagons, polygons and cubes as well as florals and old-world encaustic images continue to dominate tile design. Designers and homeowners have more choices this season when it comes to adding interest and dimension to backsplashes, walls and flooring.
Daltile's new Bee Hive Medley collection, seen here, ups the geometry game with its hexagonal and cube-shape tiles. And the large-format size is right on trend. The wall in this photo is tiled with the collection's Hex Cube Negative. The collection comes in seven colors and in hexagonal and optical-illusion cube shapes.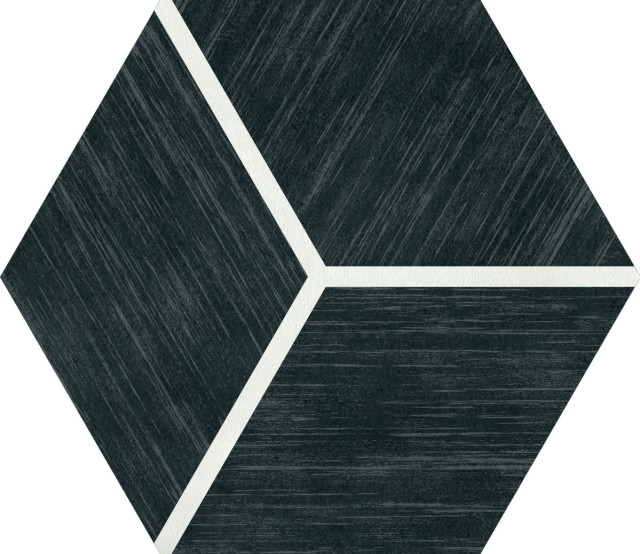 Julie SheerThis is a close-up of the Hex Cube Negative seen in the photo above; the style also comes in white with black lines, called Positive.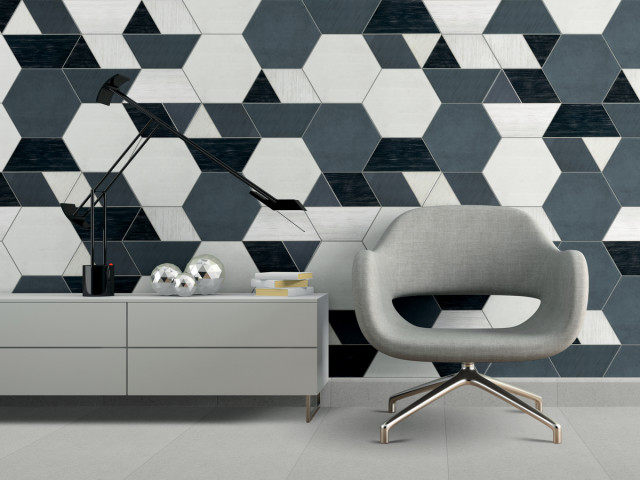 Julie SheerPhoto from Daltile
Here's a look at the Multiplex hexagonal tile in trendy black, white and gray, from Daltile's Bee Hive Medley collection.
Julie SheerDaltile's Multiplex in blue taupe utilizes today's trendiest tones.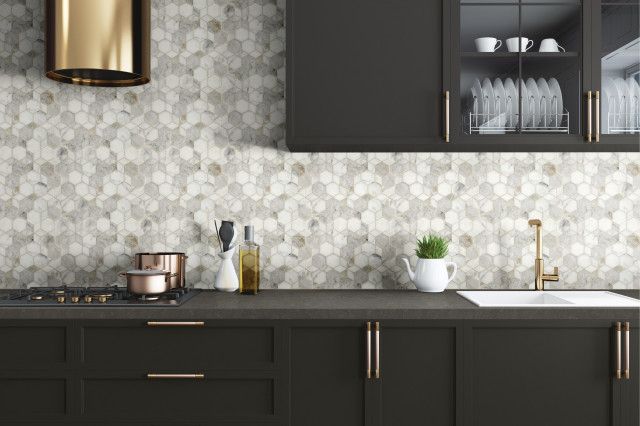 Julie SheerPhoto from Daltile
Daltile's new Sublimity collection offers fresh geometric shapes in marble, limestone and travertine mosaics. There are eight shapes, including cube, elongated hexagon, parquet, trapezoid, herringbone and random linear.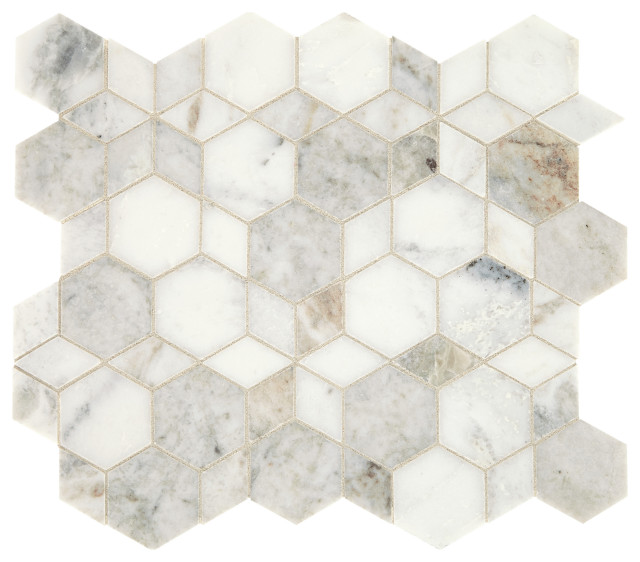 Julie SheerHere's a close-up of Hypnotic in Daphne White, from Daltile's Sublimity collection.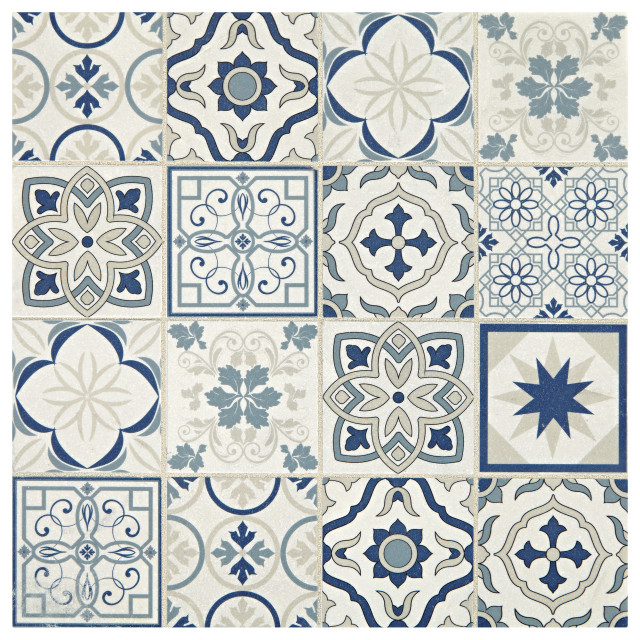 Julie SheerThe Daltile Sublimity collection also includes encaustic stone 3-by-3-inch mosaic tiles in eight patterns. The one shown here is called Mindful.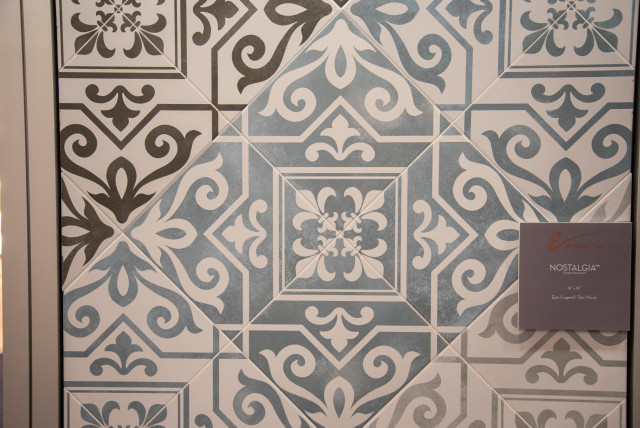 Julie SheerEmser Tile's new Nostalgia line offers a fresh update on the encaustic look, in of-the-moment blues and neutrals.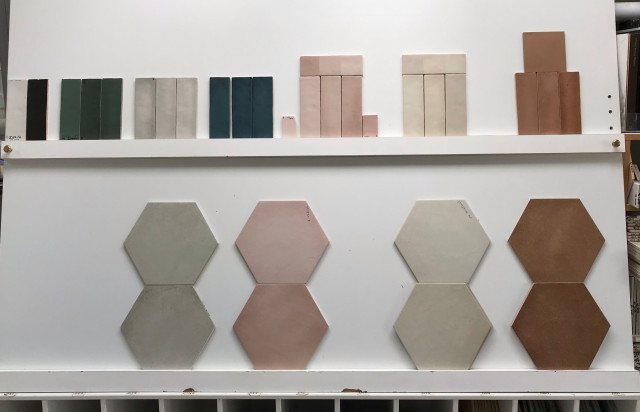 Julie SheerPhoto from Bedrosians Tile & Stone
The shapes, muted color palette and matte finish of the tiles in Bedrosians Tile & Stone's new Makoto collection, launching this spring, are fresh versions of the options in the company's popular Cloe collection.
They're also trends that Coco Nicholas, creative director of decorative products at Bedrosians, saw at Spain's Cevisama trade show for kitchen and bath ceramics in February. "Matte is definitely a huge trend, and the blush color is also a trend. The color palette of Makoto is something we saw everywhere at the show," Nicholas says. The Makoto collection includes the large-format hexagons and field tiles shown here.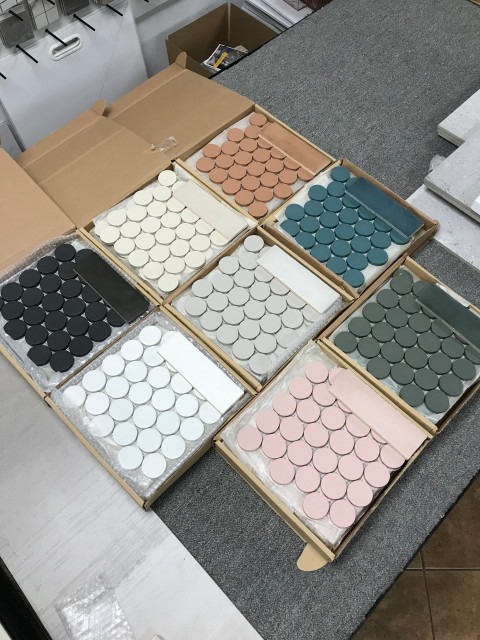 Julie SheerPhoto from Bedrosians Tile & Stone
Here are penny rounds included in Bedrosians' new Makoto collection.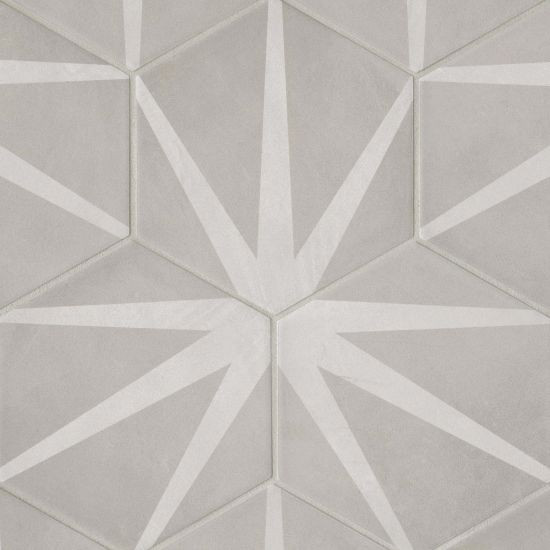 Julie SheerPhoto from Bedrosians Tile & Stone
The pattern on the Stella hexagonal tile in Bedrosians Tile & Stone's Allora collection combines the gray, larger-format and geometric trends. The 8½-by-10-inch matte porcelain tile can be combined with the line's solid white, black or gray offerings for a modern look.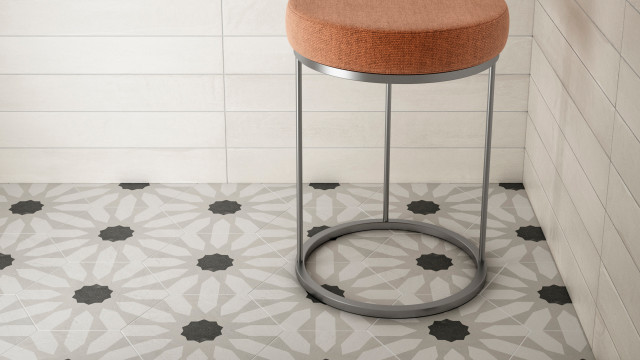 Julie SheerPhoto from Bedrosians Tile & Stone
The floral pattern on the hexagonal Fiore tile in Bedrosians' Allora collection makes a striking statement when the tiles are used for flooring.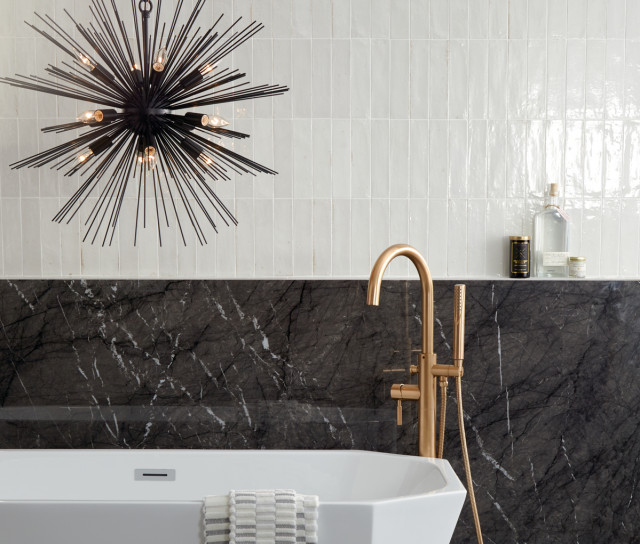 Julie SheerPhoto from Daltile
3. Inspired by Nature
The technology involved in creating faux-wood and faux-stone porcelain tile continues to improve. This season's offerings include even more dramatic veining in marble-like porcelain, and a look that imitates charred wood.
Large porcelain slabs that resemble marble are gaining in popularity, and Daltile's new Jasper Grey is no exception. As seen here, Jasper Grey adds the drama of a rocky surface and a dark color and the illusion of marble.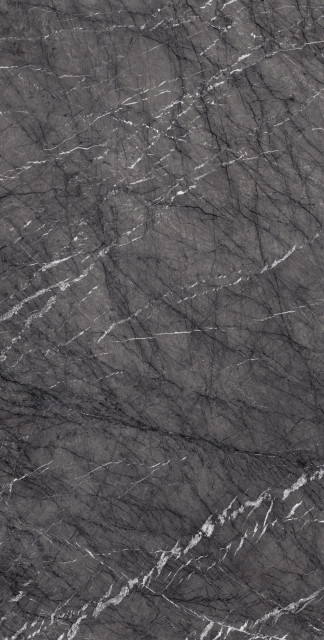 Julie SheerHere's a closer look at a slab of Daltile's Jasper Grey.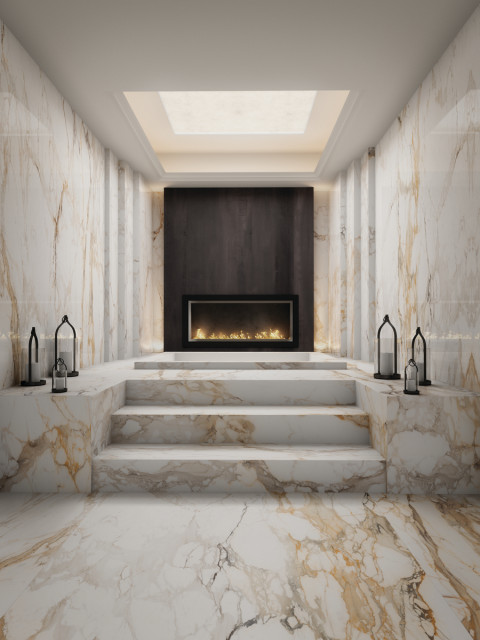 Julie SheerPhoto from Daltile
The gold veining in Daltile's new Calacatta Topaz porcelain slab is the design bling of the moment. This tile provides the elegance of marble but with the typically lower maintenance requirements of porcelain.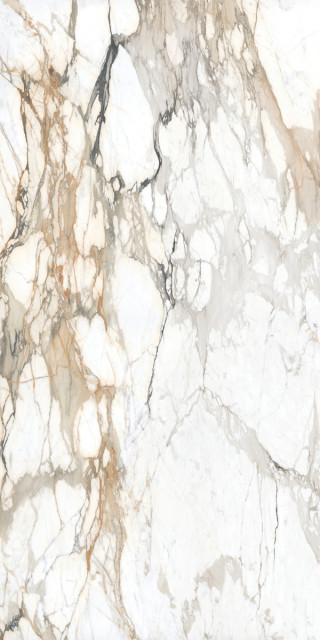 Julie SheerThis photo offers another view of the veining in Daltile's Calacatta Topaz.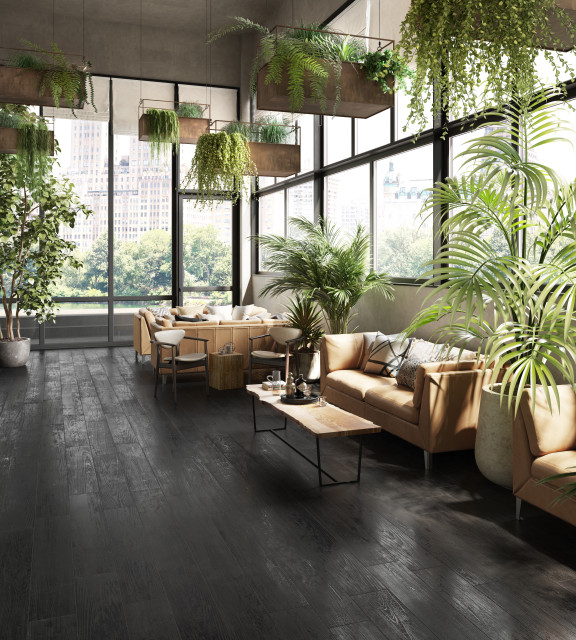 Julie SheerPhoto from Emser Tile
The flooring in this room is a plank tile called Yakedo from Emser Tile that melds several trends. It's a glazed porcelain faux-wood tile that mimics the look created by the Japanese wood-charring technique shou-sugi-ban. It debuted in late 2019 and comes in five colors.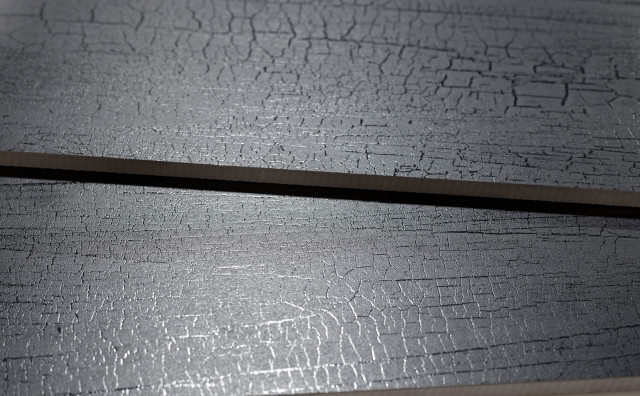 Julie SheerHere's a closer look at Yakedo's crackle-textured surface.