Many homeowners who renovate their master bathroom use the refreshed spaces to relax and unwind, and the shower or tub plays a key role in this process, new data from Houzz reveals. Cleanliness and a lack of clutter are also quite important for relaxation, the 2019 U.S. Houzz Bathroom Trends Study finds.
Read on to learn what changes homeowners are making to their master bathroom showers and tubs to create refreshed spaces they love.
More than half of renovating homeowners upgrading the shower in their master bathroom increase its size.
The 2019 U.S. Houzz Bathroom Trends Study includes responses from more than 1,300 registered users of Houzz who had completed a master bathroom remodel in the past 12 months, were working on one or were planning to start one in the next three months.
Size Matters — for the Shower
When it comes to remodeling the master bathroom, homeowners aren't necessarily looking to create a larger room. In fact, homeownersrenovating their master bathrooms are twice as likely to increase the size of their shower (54%) or change their bathroom's layout (45%) than they are to augment the size of their bathroom (22%). A large majority (78%) of homeownersrenovating their master bathrooms keep the bathroom's size about the same.
The decision many homeowners make to optimize within their master bathroom's existing footprint may be due to the fact that a good share of these spaces are relatively large: 41% are 100 to 199 square feet, while 20% are 200 square feet or larger.
A clean, uncluttered space is key for relaxing, according to renovating homeowners who use their upgraded master bathrooms for relaxation.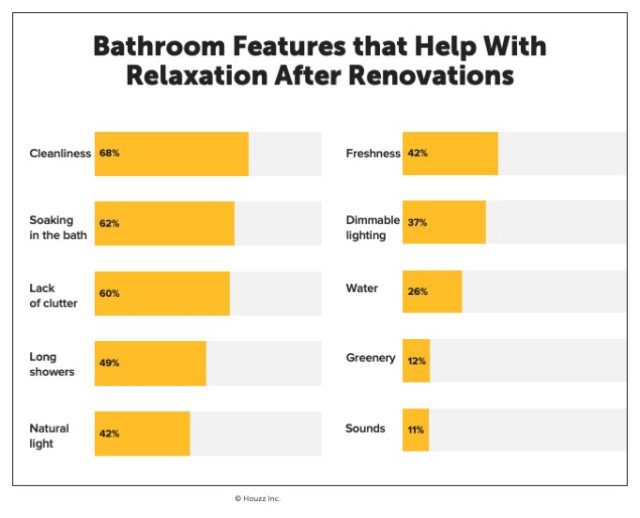 Can't Relax Unless It's Clean and Uncluttered
Nearly half (45%) of homeowners renovating their master bathrooms use the refreshed spaces to relax and unwind. And in order to do so, a large share (68%) of renovating homeowners who use the bathroom to relax say cleanliness is a must in their upgraded master bathrooms, while 60% say they need a lack of clutter.
Bathing and showering also play a role in relaxation, with the second-most-popular relaxation feature the ability to soak in the bath (62%). And nearly half (49%) of those who use their master bathrooms for relaxing enjoy long showers.
Dimmable lighting is another relaxing feature for some (37%).
Nearly half of renovated master bathrooms have no tub.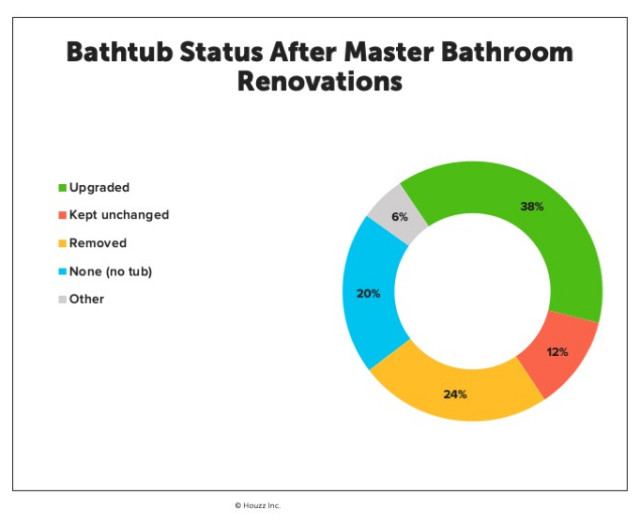 More Than 40% Skip the Master Tub
Nearly half of renovated master bathrooms have no tub, either because there wasn't one in the first place (20%) or because the homeowners are removingit (24%) during the project. Among the group removing the tub, 84% are choosing to enlarge the shower.
Among Tub Lovers, Freestanding Is the Top Pick
Among the 38% of homeowners adding or replacing a bathtub as part of their master bathroom project, 50% choosea freestanding flat-bottom tub shape, such as the tub shown in this photo. Alcove styles, which fit within a three-wall enclosure, are the second most popular shape (21%). Free-standing claw-foot tubs are fourth (9%).
Most upgraded tubs, regardless of shape, accommodate soaking (70%), meaning they are deep enough to allow the user to be fully submerged in water.
Ceramic and porcelain tile together make up the most popular material for upgraded shower walls. Porcelain wall tile is featured here.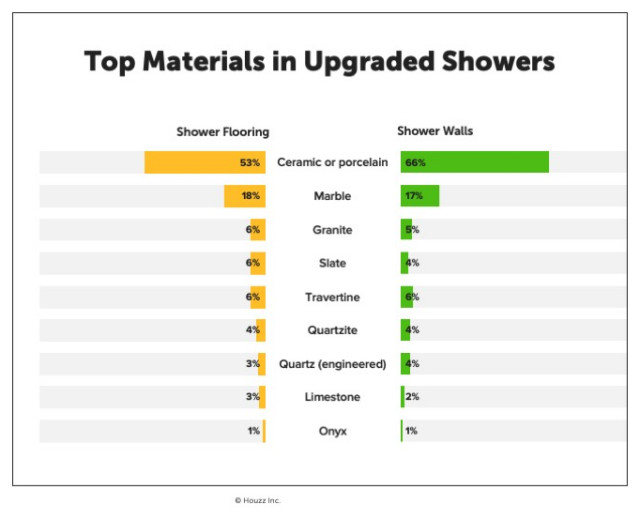 Top Materials for Shower Floors and Walls
Among the 83% of renovating homeowners who upgrade the shower as part of their master bathroom project, the majority choose ceramic or porcelain tile for shower floors (53%) and shower walls (66%).
Natural stone — marble, granite, slate, travertine, quartzite, limestone or onyx — is also popular for these shower surfaces, collectively accounting for 39% of upgraded shower floors and 35% of upgraded shower walls. Marble is the most popular of the natural stones in renovated master bathrooms.