Hardwood Is the No. 1 Flooring Choice
Natural hardwood is the top choice (29%) among homeowners upgrading flooring as part of their kitchen renovation, followed by ceramic or porcelain tile (23%) and vinyl or resilient flooring (14%). This is a reversal from last year, when hardwood slipped from the No. 1 spot to become the second-most popular option behind ceramic or porcelain tile.
In fact, until this year hardwood had been declining in popularity each of the five years Houzz has tracked the data. Its shift back to the No. 1 spot for upgraded kitchen flooring in remodeled kitchens is likely due to the rising cost of wood-like materials — including engineered wood and laminate — as a result of tariffs and other trade policies affecting imports from China, according to the study.
Another notable shift is vinyl or resilient flooring's rise to the No. 3 spot this year, a first since Houzz began tracking the data five years ago. These materials accounted for 12% of upgraded flooring in kitchen renovations in last year's report and 10% the year before.
Engineered wood (13%) and laminate (9%) were the fourth- and fifth-most popular options, respectively, for upgraded flooring in renovated kitchens.
This Minneapolis kitchen features engineered white oak flooring.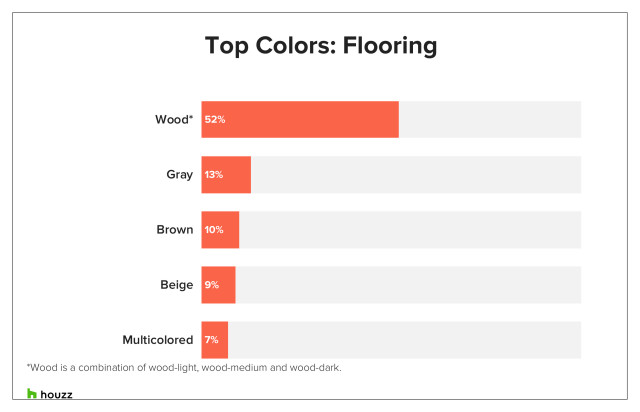 Wood Tone Is the Most Popular Floor Color Choice
Whether the flooring material is wood or just made to look like wood, wood tone is the most popular color choice (52%) for flooring in renovated kitchens, according to the 2020 study. Gray is a distant second among floor color picks (13%), followed by brown (10%).
This kitchen features recessed lighting, the most popular lighting choice among homeowners upgrading their lighting as part of a kitchen remodel.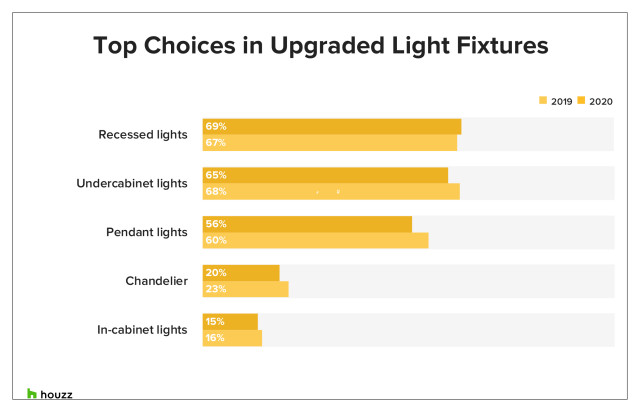 Recessed Lighting Is a Top Pick
Seventy-nine percent of renovating homeowners choose to upgrade light fixtures as part of their kitchen renovation, and among this group, recessed lights are the No. 1 choice, selected by 69%. The popularity of undercabinet lights (65%), pendant lights (56%), chandeliers (20%) and in-cabinet lights (15%) are all down compared with last year's study.
Nathan Taylor for Obelisk Home
Stainless steel is the top finish for upgraded appliances in renovated kitchens.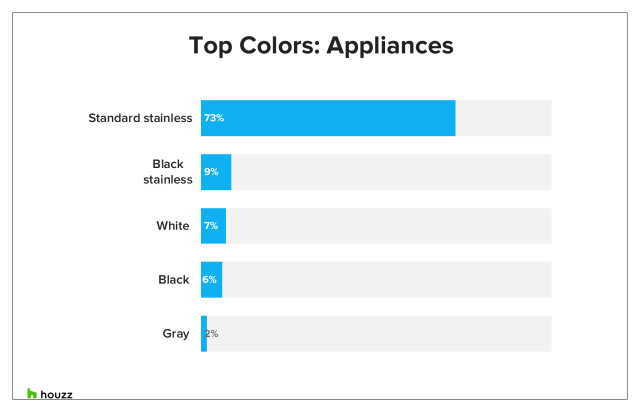 Stainless Steel Is the Most Popular Color Choice for Appliances
Among homeowners renovating a kitchen, 55% choose to replace all of the appliances, while one-third (31%) replace some. The dishwasher (75%), refrigerator (74%) and microwave (72%) are top picks for replacement.
Standard stainless steel remains by far the most popular option for kitchen appliances, chosen by 73% of renovating homeowners. Black stainless is second (9%), followed by white (7%) and black (6%).